Home drug testing was flagged, says May
June 01, 2018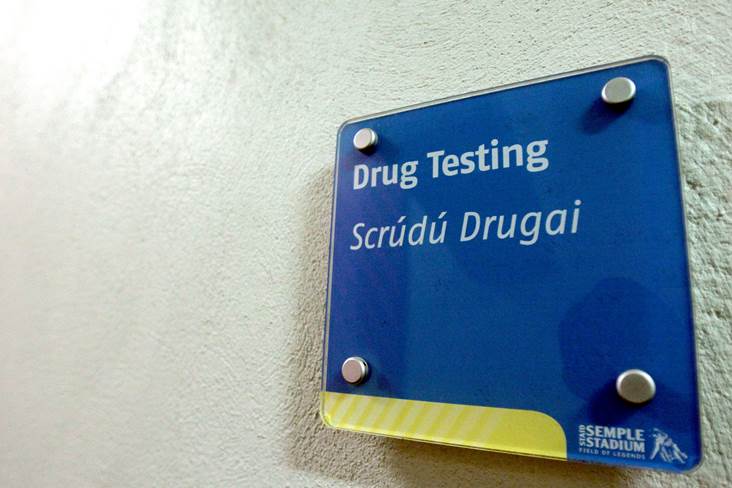 Drug testing at Semple Stadium
The Head of Sport Ireland's anti-doping committee has insisted that the GPA was made aware that its members would have to provide their home address to drug testers for them to receive their Government grants.
Dr Una May was responding to a GPA statement that the grants were being withheld at the "11th hour" due to a development that required "members sign up to a range of new measures, including the provision of home address for home drug testing".
The GPA's acting CEO Seamus Hickey said in the statement: "Sport Ireland is withholding the payment of the 2017 and future State grants unless GPA members sign up to a range of new measures including the provision of home address for home drug testing.
"As currently stated in the Sport Ireland anti-doping rules, only a limited number of athletes on a Registered Testing Pool are subject to home testing.
"Should the GPA agree to these new terms, all inter-county players would be subject to home testing which, in our view is a wholly unreasonable demand on amateur athletes.
"We have in recent weeks consulted with you, the player base, through our Player Engagement Officers on this issue and the feedback from across the country has been overwhelmingly against at home testing.
"To us it is unfathomable why Sport Ireland consider these new measures to be necessary and why at the 11th hour they are linking them to the payment of State grants without any prior agreement with us on the issue."
But Dr May hit back saying in the Irish Independent: "There are significant inaccuracies in the statement that went out to the players.
"I guess the most notable of that is the reference to the '11th hour'. Last year when the agreement was signed, it was signed subject to an addendum which was to strengthen the anti-doping program. We have been in discussion with the GPA since December to come to an agreement on the best way to achieve that.
"In April, at the most recent of a number of meetings, the GAA and ourselves came out of a meeting believing we had reached agreement with the GPA.
"That agreement was that, in 2019, we would expect to receive the addresses of players for them to receive their grants and that information would be used initially for the purposes of intelligence.
"So, there is no 11th hour about it, we agreed they would take some time to explain to their players."
Stay up-to-date with this weekend's football and hurling championship action on our Match Tracker where we will be bringing live updates and scores from around the grounds.
Most Read Stories