HL 2B round-up: Ardsmen book final spot
March 11, 2018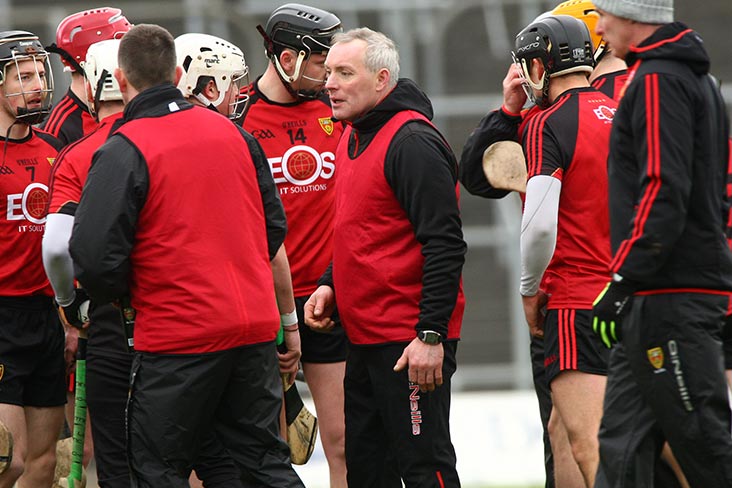 Down hurling manager Marty Mallon
Down's 3-19 to 0-14 victory over already-qualified Mayo at Portaferry sends them through to the Division 2B final.
The westerners had sealed their place in the decider with a game to spare so it was no major surprise that they slumped to their first defeat of the campaign today, with late goals from Liam Savage and Daithi Sands finally seeing off the depleted visitors.
Donegal missed out on a place in the final despite beating Armagh by 2-17 to 1-17 at the Athletic Grounds, while Wicklow's 3-15 to 2-13 victory over pointless Derry in Bray saw them finish third.
The Orchard County and the Oak Leaf men are the bottom two in this division.
Down - S Keith; B Byers, C Teggart (0-1), M Hughes; P McManus, J McManus, M Fisher (0-2, 1f); R Branagan, M Magee (0-1); C Bailie (0-1), D McManus (0-5), P Og McCrickard; P Sheehan (0-6, 4f), E Sands (1-1), D Sands (1-2). Subs: L Savage (1-0) for P Sheehan, A O'Prey for P McCrickard, P Branagan for P McManus, R McCrickard for R Branagan, S Conlan for M Magee.
Mayo - M Parsons; A Brennan, M Morley, D Huane; C Henry, C Daly, T Sweeney; J Cotter (0-1), C Murray; B Morley, P O'Flynn, B Douglas (0-1); S Boland (0-7f), C Scahill (0-2), J Coyne. Subs: D O'Brien for M Parsons, K Feeney (0-1f) for J Coyne, D Kenny for D Huane, K Higgins (0-1) for C Murray, D McTigue (0-1) for B Morley.
Referee - S Stack.
**
Donegal - P Burns; P Doherty, C McDermott, S Gillespie; N Cleary, D Cullen (0-1), C Matthewson (0-3); J Boyle, L Henderson (0-8, 5f); D Flynn (0-1), S McVeigh, R McDermott (0-1); D Coulter (2-1, 1-0pen), B Lafferty (0-2), G Gilmore. Subs: G Brown for N Cleary, E McDermott for B Lafferty, K Campbell for L Henderson.
Armagh - S Doherty; C Clifford, A McGuinness, D Bridges; J Corvan, P Gaffney, N Green; S Renaghan (0-1), K McKernan (0-1); R Gaffney (0-1), C Carvill (0-1), D Carvill (1-12, 1-0pen, 0-5f, 0-2'65); D McKenna, E McGuinness (0-1), L Woods. Subs: P Quinn for N Green, P McKearney for L Woods, B Shortt for D McKenna, C McAnallen for E McGuinness.
Referee - K McGeeney.
**
Wicklow - R Fitzgerald; E Byrne, S Kelly, M O'Brien; G Byrne, W Kavanagh, E Kearns; R Keddy (0-1), D Staunton (0-2); J Connors (0-5, 2f), J Henderson, S Germaine; P Doyle, A O'Brien (2-4, 0-1f, 0-1'65), G O'Brien (1-3). Subs: J Doyle for S Germaine, P Keane for G Byrne, B Cuddihy for M O'Brien, E McCormack for A O'Brien.
Derry - M Kirkpatrick; N Farran, P Turner, D McCloskey; N Waldron (0-1), C Steele, J Phelan; T Magee, M McGuigan (0-1); A Grant (0-5, 3f), M McGrath (1-1), C Murphy (0-1); L Murphy (0-1), C O'Doherty (0-2), D Cartin. Subs: J Mullan for P Turner, N Smyth for L Murphy, A O'Donnell (1-0) for D Cartin, B Quigley (0-1) for T Magee, T Rankin for A Grant.
Referee - P Burke.
Most Read Stories