CPA draft eight motions for 2018 Congress
November 29, 2017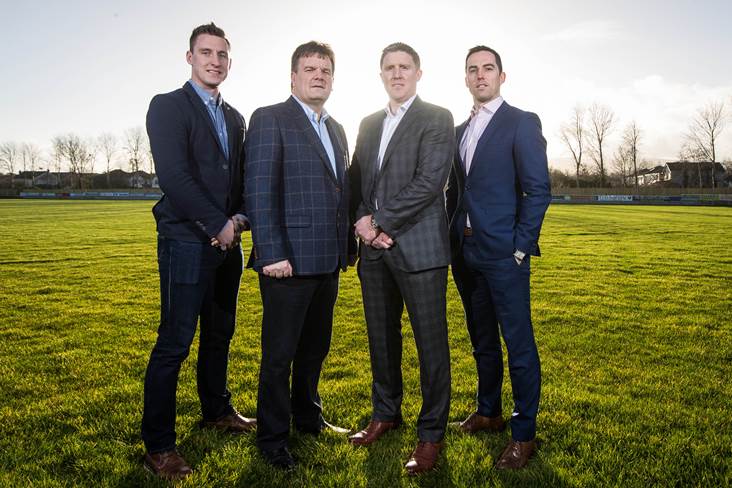 Executive member Kevin Nolan, Secretary Declan Brennan, Chairman Micheal Briody and executive member Aaron Kernan at the launch of the Club Players Association in Ballyboden St Enda's.
©INPHO/Ryan Byrne.
Based on feedback from club players and suggestions and guidance from senior GAA officials, the CPA has drafted eight motions for the 2018 Congress that have been placed into the GAA democratic decision making process through clubs nationwide.
CPA chairman Micheál Briody said: "During our discussions with GAA management, when we were invited to meet the CCCC, and in comments and feedback from County board officials we have been told that the CPA should pursue change through individual clubs using the GAA's democratic processes.
"To do this we have drafted eight motions that we made available to clubs and county boards to take forward. We look forward to seeing how they progress and the debate they generate.
"In truth how many club members understand the GAA democratic process, or would be comfortable taking it upon themselves to bring forward their ideas in a motion with confidence it can go all the way? It is the GAA's version of the Log Cabin to the White House and sounds great. But is it?
"It may be that one of the first actions of the new GAA Director General in 2018 should be to do a root and branch review of the decision making process in our Association to ensure transparency and accountability. That appointment in itself comes at a critical time for the GAA.
"The motions we have made available to clubs and county boards relate to a variety of procedural matters, for example one relates to full voter transparency and accountability at Annual Congress. It is not helpful to the GAA as an association that there is innuendo out there that officials are influenced to vote contrary to their mandated position. This motion will put that malicious rumour to bed."
Other motions relate to player representation in Congress delegations; measures to reinforce April as Club month; a proposal for a fixture appeals process where matches are fixed in a way that causes a club genuine difficulty. These are issues that the CPA believe the GAA must debate and agree upon. If they are defeated so be it but let the GAA at least debate the issues.
Briody added: "As a democratic organisation, the principle is that any member of this association can go to their club AGM, put forward their idea, bring it to Congress, have it discussed, debated and looked at inside-out.
"It is possible for motions to make it through this labyrinthine process. It is hailed a great strength of the GAA. In reality there are several routes to getting a motion to Congress. The Hurling motions can be drafted, debated at a Special Congress in a matter of months.  Had this motion emanated initially from a club the whole process would have taken much longer with no guarantee of success. 
"Over recent years a number of motions have made their way from Clubs all the way to the Congress floor. Some have been debated, others received little consideration, or were withdrawn or ruled out of order.
"Procedurally the GAA is very clear on how Motions must be brought forward, and this allows for some brilliant ideas to get to the top table. But what other good ideas to the benefit of the GAA have withered on the vine because of a procedural roadblock. In theory could we have Rules on the Statute book that are procedurally unsound?"
Most Read Stories