Cody surprised by Galway's early exit
June 16, 2019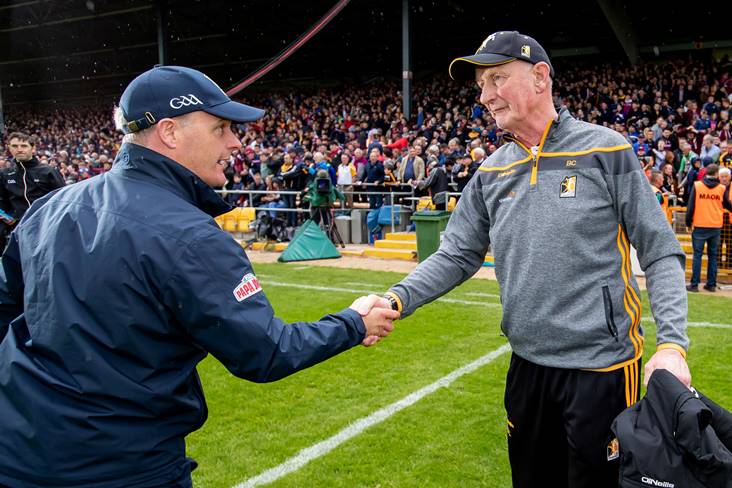 Galway manager Micheal Donoghue shakes hands with Kilkenny manager Brian Cody. ©INPHO/Morgan Treacy.
Brian Cody admitted Galway's early championship exit came as a surprise to him.
The 2017 All-Ireland champions' defeat to Dublin in Parnell Park saw them finish bottom of the Leinster SHC round-robin series, with Kilkenny and Wexford progressing to the provincial final and Dublin joining them in the All-Ireland series.
"It's a surprise to everybody," the Kilkenny manager told Sky Sports.
"Galway are one of the best teams in the country. They've been in the All-Ireland final the last two years. It might put an end to the talk that the Leinster championship is an easy place to be. Galway are an outstanding team and they're out of the championship.
"I've believed in Dublin for a long time. They're not going to be in the Leinster final, but they'll be happy to still be in the championship."
Reflecting on last night's dramatic draw with Wexford, Cody said: "It's easy to smile tonight, but in two weeks' time you'll be needing more than a smile.
"The battle is fierce, the challenge is terrific. I wasn't concerned about who we were going to meet in a Leinster final. I wanted to see us playing in a Leinster final, and we are, and that's the big thing from our point of view."
Most Read Stories