Inter-pro hurling: Captain Callanan points the way
December 11, 2016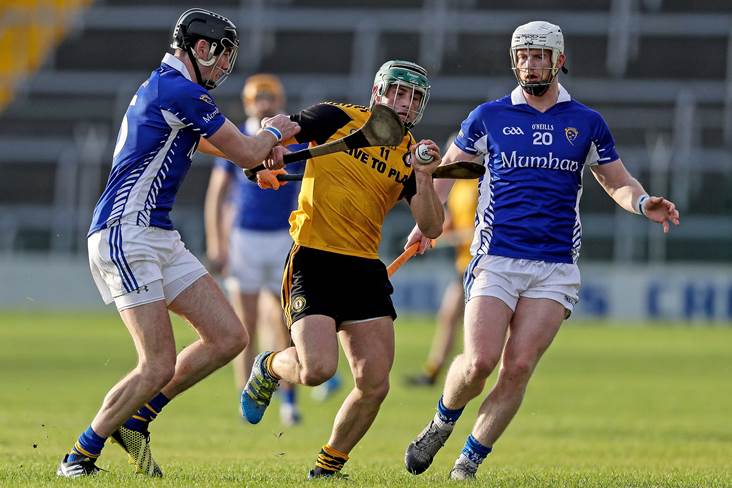 Munster's Diarmaid Byrnes and Michael Breen with Conor Johnston of Ulster.
©INPHO/Tommy Dickson.
Captain Seamus Callanan led by example as Munster comfortably overcame Ulster in Semple Stadium today.
The Premier County star pick-pocketed the visitors to the tune of 1-7 and their reward is a final showdown with Leinster.
The scoreboard read Munster 3-21, Ulster 0-15 at the final whistle and Michael Breen and Stephen Bennett also netted for Anthony Daly's side.
Munster enjoyed a 1-9 to 1-7 advantage at the break thanks to Breen's 3rd minute goal while Callanan raised a green flag in the 40th minute.
Ulster's woes were compounded when Waterford ace Bennett pounced for his side's third goal in stoppage time.
Munster - A Nash (Cork); B Coughlan (Waterford), J Barry (Tipperary), N Connors (Waterford); D Byrnes (Limerick) (0-1), C Dillon (Clare), S Fives (Waterford); M Breen (Tipperary) (1-1), J Barron (Waterford); S Dowling (Limerick) (0-1), Shane Bennett (Waterford) (0-1), D McCormack (Tipperary) (0-1); J O'Dwyer (Tipperary) (0-2), S Callanan (Tipperary) (1-7, 0-6f), D Reidy (Clare) (0-1). Subs: A Shanagher (Clare) for S Dowling, B Nash (Limerick) (0-4) for Shane Bennett, T Murnane (Kerry) (0-1) for J Barron, P Maher (Tipperary) (0-1) for S Fives, Stephen Bennett (Waterford) (1-0) for D McCormack, S Dowling for J O'Dwyer, Shane Bennett for D Reidy, D McCormack for M Breen, S Fives for B Coughlan, J Barron for C Dillon.
Ulster - S Keith (Down); S McCrory (Antrim), P Burke (Antrim), J McManus (Down); N McAuley (Antrim), C Woods (Down) (0-1), C Taggart (Down); E Campbell (Antrim), Ciaran Johnston (Antrim); C Corvan (Armagh) (0-3), N McKenna (Antrim) (0-1), D Toner (Down); Conor Johnston (Antrim), J Dillon (Antrim), C Clarke (Antrim) (0-7, 6f). Subs: C O'Prey (Down) (0-2, 1f) for Ciaran Johnston, D Cullen (Donegal) (0-1) for D Toner, J Corvan (Armagh) for C Taggart, A Grant (Derry) for C Corvan, P Henry (Derry) for Conor Johnston, C O'Connell (Antrim) for S Keith, C Devlin (Armagh) for J Dillon, S Renaghan (Armagh) for D Cullen, Ciaran Johnston for J McManus.
Referee - S Cleere.
Most Read Stories