Maher forgot to thank manager in acceptance speech
September 05, 2016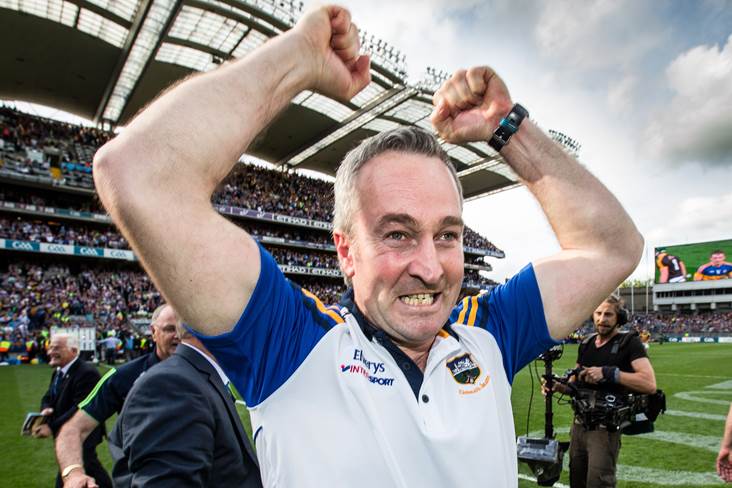 Tipperary manager Michael Ryan celebrates.
©INPHO/Cathal Noonan.
Tipperary skipper Brendan Maher admits he got a "bit of stick" from his team-mates for forgetting to thank manager Michael Ryan and his management team in his All-Ireland final acceptance speech.
Maher, who previously captained Tipp to an All-Ireland minor title in 2007, had prepared the speech three weeks ago, but such was his excitement after the win over Kilkenny that he inadvertently omitted from Ryan from it.
"In the moment you don't know what to think, you're a bit all over the place, and I forgot to mention Mick Ryan and the management in the speech and I had him first on the list," he explained.
"I saw the names and said I'd come back to it, but I just forgot. You don't know what you're at! I've been getting a bit of stick off the lads since.
"I scribbled a few notes out the day after the Galway game. Got it out of the head. I was sitting down in my home house, doing a bit of work, and it came into my head. I saw there was a copy and a biro on the table so I just said, 'right, I'll jot down a few thank yous' and it was out of my head then.
"I probably learned that from the last time in 2014 and I had spoken to Eoin (Kelly) about it as well and he said he didn't do it in 2011 and it corrupted his thoughts in the lead-up to it.
"That's natural no matter how focused you are coming in to it, that's still going to come into your head. I didn't have to think about it because I had it written down, but I'd be like that - I like to write things down.
"It was handed to me by someone at the final whistle, I won't tell you who, and it was nice for me to have that piece of mind that I wouldn't have to think about what I was going to say. Even though I still forgot!"
Most Read Stories