O'Shea offers no excuses
February 16, 2015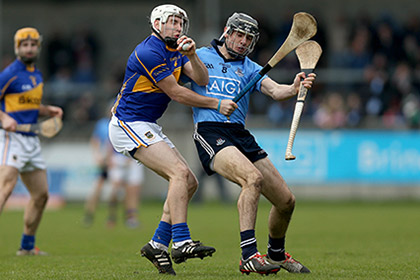 Danny Suttcliffe of Dublin and Joe O'Dwyer of Tipp during the opening round of the NHL at Parnell Park
Eamon O'Shea was at a loss to explain Tipperary's heavy defeat to Dublin.
"It was a bad performance and I have no excuses, none," the Premier County manager said.
"It concerns me alright. Dublin played some really good hurling and it was the opposite for us. We were reasonably optimistic coming here. We're only hurling one day a week at the moment, but I wouldn't use that as an excuse.
"We were beaten by a team who wanted to win the ball more than we did, so we're disappointed."
O'Shea admitted that Dublin were much the hungrier of the two teams.
"I wouldn't say we did anything in particular that would have caused that performance. The opposition were hungrier to win the ball, they were on a roll and it's hard to get it back when that happens.
"The good thing is there's a match next Sunday and we have to go out and do something different. That's just the message I'd get."
Most Read Stories