O'Shea calls for Premier reassessment
July 31, 2014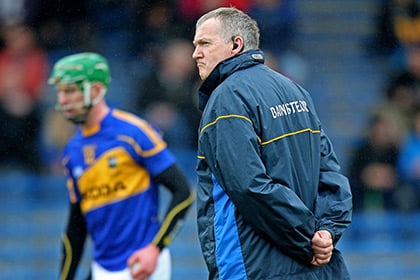 Tipperary manager Eamon O'Shea. INPHO
Eamon O'Shea says people should reassess their estimation of Tipperary senior hurlers.
After the Premier County had booked an All-Ireland semi-final date with Cork on August 17th by easing past Dublin last Sunday, their manager suggested that some commentators had been under-estimating his side:
"I would ask for a reassessment from the Galway game in Pearse Park twelve weeks ago," he is quoted in The Tipperary Star.
"We have played eight times, won six, and my belief is that we should have won the league final and we lost the game against Limerick in the last minute.
"I just think there needs to be a reassessment of that from commentators. When you win six games, surely it can't all be bad.
"The loss to Limerick was not a good result but there was a cycle where we were playing games within a range of playing well. I didn't feel we went outside of that range.
"We didn't play that well against Limerick - we certainly didn't finish it.
"I am not saying that the assessment is completely wrong. I am just saying that you need to look at the whole thing in totality because there may be a different view there."
Most Read Stories