Kelly: hype won't get to Banner
November 12, 2013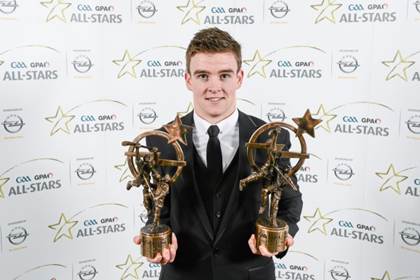 Tony Kelly with his Player of the Year and Young Player of the Year awards at the GAA GPA All-Stars sponsored by Opel ©Sportsfile
Hurler of the Year Tony Kelly says the Clare management team won't let the players get distracted by hype.
Kelly had a remarkable year in 2013, winning All-Irelands at U21 and senior levels before adding an astonishing triple haul of All Star, Hurler of the Year and Young Hurler of the Year on Friday night.
He's one of the new breed of Clare hurler to have exploded onto the national stage but the 19-year-old is confident that the Banner boys will be able to keep their heads on the ground:
"I don't have the same problem as [Shane] O'Donnell has but no, it's grand," he told Clare FM.
"With Davy in charge, there will be no fear of any of the U21s on the senior panel. He'll make sure that we're right back down to business.
"It's something that you have to enjoy and relish it.
"This isn't heard of in Clare hugely. It can get to some people but with Davy [Fitzgerald], Mike [Deegan], Louis [Mulqueen] and Paul [Kinnerk] in charge, it won't be a problem with any of us."
Most Read Stories