Paul Hearty's incredible medal haul
October 03, 2017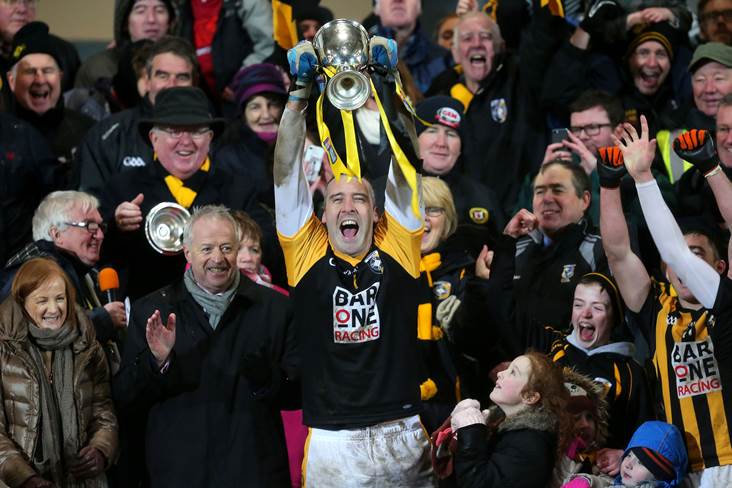 Crossmaglen captain Paul Hearty lifts the Ulster club SFC silverware.
©INPHO/Presseye/Declan Roughan.
Six-time All-Ireland club title winner Paul Hearty can look back on a truly remarkable 23-year career after announcing his retirement from Gaelic football tonight.
The former Armagh goalkeeper, who brought an end to his inter-county playing days five years ago, was a part of the Orchard County's first (and only) All-Ireland SFC winning squad in 2002 as an understudy to Benny Tierney.
His glittering inter-county career also saw him earning no fewer than six Ulster senior football championships between the years 2000 and 2008, but it's his medal haul with Crossmaglen Rangers that is truly astonishing.
The now 39-year-old was part of his club's extraordinary run of county senior football titles between 1996 and 2015, in which the south Armagh club only lost out on one single crown in 2009.
During his club career, Hearty has amassed an amazing 19 county titles and 11 Ulster club crowns. He also donned the number one jersey in all six of Crossmaglen's All-Ireland club victories in 1997, 1999, 2000, 2007, 2011 and 2012.
His retirement statement released tonight reads as follows:
"It is with a heavy heart that I announce my retirement from Gaelic football today. The time is right to call the curtain on my twenty three season career (1995-2017)
"In that time I have been blessed to have been part of a hugely successful career period for our club Crossmaglen Rangers. 19 Armagh titles, 11 Ulster club titles and 6 All-Ireland club titles is testament to the hard work, dedication and unbelievable commitment by all the players and management that have cycled through the club in this time.
"Firstly I will start by thanking my family, my mother and late father for backing me all through the early years and then to my wife & children whose love, support and sacrifice throughout my career I will never forget.
"Thanks to all the management teams who took time to manage what is a very time consuming job, from Joe Kernan who had the courage to play a young 16-year-old as goalkeeper in his quest to secure a first county title in ten years for the club right through to Gareth O'Neill today.
"Thanks also to all the players I have played with past and present, the huge sacrifices that were made through the years to achieve something that will never be forgotten.
"Something I will miss very much will be sharing that changing room with some of the best friends you could ever hope ton have, the lifelong friends you make through the GAA is something to cherish and be proud of."
Most Read Stories