The late John McKnight
July 12, 2017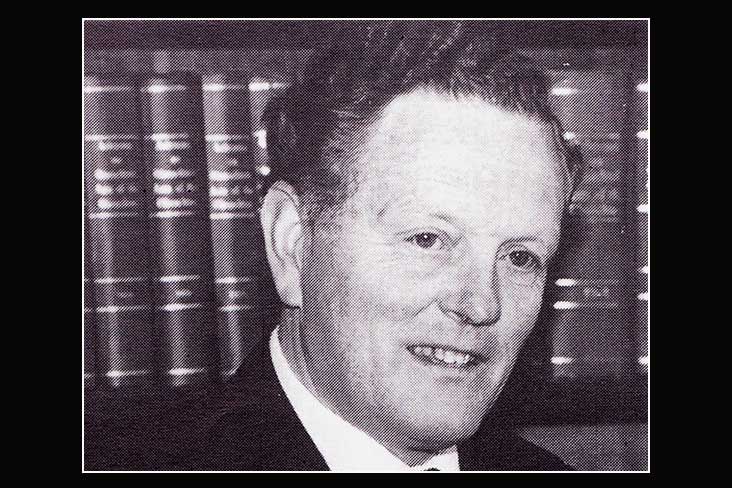 The late John McKnight
Sad to report the death of legendary Armagh defender John McKnight.
Part of a great south Armagh GAA family, John was at left full back on the Armagh team which reached the All Ireland final for the counties very first time in 1953.
Sadly for the Orchard County, the great Kerry team of the mid fifties just proved their betters on the day.
John was a regular on the Armagh team right into the sixties and became a near automatic choice for Ulster Railway Cup teams of that time. He was in his favoured left full back position as the northern province overcame Munster in the 1956 final of that competition.
A solicitor by profession, John's firm of Reddy Charlton and McKnight became legal advisors to the GAA. 
Ar dheis De go raibh a anam.
John McKnight's funeral details are as follows:
Beloved husband of Ita and devoted father of Paul, Johnny, Fergal, Catherine, Mairéad, Deirdre, Brona, Orla and James. Loving brother of Bridie, James, Felix, Mary and the late Michael. Father-in-law of Deirdre, Alana, Ursula, Fionán, Andy, Gareth, Conall and Seamus. He will be sadly missed by all his family, brothers and sisters-in-law, grandchildren, nieces, nephews, relatives and friends. Reposing at home on Monday, the 10th of July, from 4-9pm. Requiem Mass at Church of the Assumption, Howth, on Tuesday, the 11th of July, at 10am, followed by removal to Star of the Sea Church, Claddaghduff, Co Galway. Final Blessing on Wednesday, the 12th of July, at 1pm followed by burial on Omey Island. Family flowers only.
 
The Footballing McKnight Brothers (a feature from Hogan Stand magazine 7th April 1993) 

Boarders at the famed Saint Patrick's College in Armagh, winners of the inaugural All-Ireland Hogan Cup Colleges football competition back in 1946, the McKnight brothers from south Armagh didn't require any coaxing to row in with the rigid house rules pertaining to sports participation at the college at the time. In an era when students were encouraged to tog out for organised games whether it suited them or not, the Killeavy boys, Michael, John, Felix and James were eager disciples of the rules of engagement on the football field as laid down by Father Moran and his cohorts. The truth of it was that the McKnights had already been converted long since to the religion that is football in the border area of the Orchard County

Michael, the elder, remembers the college as being a real collection and assortment of the best of talent from around the Armagh diocese. There were some fine players from Lough like Kevin Behan, others from Derry such as Patsy Breen and from Tyrone Eddie Devlin. Armagh, of course, were well represented with Joe Cunningham and Tony Connolly but it was the spur of Tyrone's All-Ireland Minor victories in 1947 and '48 that really fired the passions of the deeply proud Armagh brothers. "If Tyrone were able to beat everyone else in Ireland, then we felt we could do the same," recalled John.

Some twenty miles away from the homeplace in the townland of Cloghogue, Saint Pat's Armagh formed a fine springboard for the talents of the Killeavy parish trio. In a quirky sort of way, the college also provided the boys with their first impressions of big time gaelic football even if it was via the airwaves as Michael explains. "The college organised all the pupils to assemble in the main hall to listen to the radio for the commentary by Micheal O'Hehir of the 1947 All-Ireland Senior final from the Polo Grounds in New York. My memory of the occasion revolves around a gathering around the radio after tea time and listening to every ball that was kicked by Kerry and Cavan. Everyone was for the Cavan men and you'd have got a box in the ear for your troubles if you let a roar out for Kerry."

Sons of Killeavy native George McKnight and the former Ellen Brady of Tully, Leitrim, Cloghogue's sporting quartet cut their gaelic football teeth playing with the likely lads collectively known as Ballybot in the Newry Street League competitions. Despite the absence of a G.A.A. family pedigree, the McKnight clan were quickly into their stride and for his part, John, a tigerish corner back of great promise, experienced great times with Abbey C.B.S. in Newry when scooping Rannafast Cup honours at the first time of asking.

The McKnight's Underage playing days were initially played in the colours of the local Killeen club but lack of playing personnel there prompted an amalgamation brought about in the main by Killeen's John McEvoy and Killeavy's Vincent Mulholland. The parochial coming together of football forces was appreciated by the football mad brothers. "We weren't the prime movers in bringing about the amalgamation, to say the least, but we were glad to see it go through the amalgamation with Killeavy came about when we were Minors and the thought of being able to play Senior football appealed to us," explained John a Dublin based solicitor, husband of Connemara born lady, Ita King and proud father of eight. 

Fast, strong and an intelligent left corner back, John McKnight was joined on the Armagh county Minor panel by older brother Michael in 1949. Medallists against Donegal in the Ulster final of the year, the twin defenders went on to hit the jackpot with John consolidating his first team place and Michael as stand-by on the Armagh side that defeated Kerry by 1-7 to 1-5 to lift the All-Ireland Minor crown in succession to Tyrone's double win in '47/'48. John and Michael, as the only Killeavy representatives on the 49 team, were lauded as local heroes and rightly so. In the vanguard thereafter of Killeavy's push for Senior Knight brothers excelled in domestic fare and were never less than brilliant in the county colours. Making do with club tournament triumphs in places such as Glenn, Saval and Clonduff in Down and Carrickcuppin in the own beloved county, Killeavy's lack of sufficient experience and dearth of resources in man-power was always their achillies heel however. There was no holding back though for the Mill Street, Newry merchant's sons.

A hat-trick of Lagan victories with Armagh Seniors in 1953, '54,'55 were welcome additions o the McKnight household but in truth, the haul represented something well short of what had been dangled in front of them, almost simultaneously. In Michael's first season with the premier Orchard County side, the chance of All-Ireland glory excruciatingly slipped through the Ulster side's hand in the national decider of 1953, when Armagh lost out by 1-6 to 0-13 to Kerry in the final at Croke Park. For an Armagh side, who had earlier made the big breakthrough in Ulster three seasons before, the defeat was particularly cruel to accept in light of one famous incident which has become more infamous with each passing year. Michael, soon to make his debut with the team the following September as a replacement for the emigrating Gene Morgan, recalls watching brothers John, Frank Kernan and colleagues throw away the title, after failing to convert a penalty, controversially awarded by Meath referee Peter McDermott.

Denied by a cavalier Cavan die in the season that followed immediately after the Kerry catastrophe, Armagh's Michael McKnight reflects back with no little nostalgia on what might have been for brother John and Company in '53 it one old college adversary had been available to the Armagh Senior selectors. "Sean Blayney, Greg's father, was a great player and could have made the difference in 1953 if he had been about then. He was good and strong, in the same mould as Greg and I remembered him doing the most damage for Saint Colman's of Newry against us in the McRory Cup final in 1949," offered Michael. John, an Ulster Junior Championship medal winner with Armagh in 1951, is equally eloquent in his assessment of the aforementioned Blayney. "Sean played on the forty for us when we won the All-Ireland Minor title in 1949 and it was his crucial goal in the second half that won the game. He ought to have played in '53. We could have done with him then," suggested the former U.C.D. Sigerson Cup player and Combined Universities star.

A resident midfielder with his home club, Michael was desperately disappointed to lose out on a county Senior Championship title victory in deference to that challenge of a power packed Armagh Harps side in the mid fifties. Sadly, it was a similar story at college in Dublin. Despite the aid of quality players like Kerry's Sean Murphy, Tyrone's Eddie Devlin and Cavan's Jim McDonnell, John and Company at U.C.D. consistently found the combined efforts of such as Ollie Freaney, Kevin Heffernan and friends at Saint Vincents just too hot to handle. Not one to accept plaudits lightly or to hog the laurels in a self-gratifying manner, John neatly expresses the view that brother James, now a priest based in California, had the potential to put all the rest of the McKnight clan in the shade. He was, according to John, "perhaps the best of us all and had great potential as a back.

Selected in 1984 on the Irish Independent Team of the Century (for players never to have won an All-Ireland Senior medal) alongside such other star names of the past such as Cavan's Charlie Gallagher, Roscommon's Aidan Brady and Wicklow's Gerry Reilly, John McKnight's 1956 Railway Cup medal was to be his last major medal. At twenty four years of age, the one-time champions sprinter was far from washed up but in a team game like gaelic football getting off the blocks first ahead of your direct opponent doesn't always expresses no regrets and instead is glad of having come through a ten year top notch career much the richer in friends and craic. The record will show that he played at the highest level from 1949-'59 and but for an ulcerous stomach which called a halt to his game at 28 could well have excelled for several more years. While not quite managing to amass the bag of medals collected by John, older brother Michael had, at least, the satisfaction of enjoying the game he perfected right up to season 1961/ '62. Over the course of his illustrious career, Michael admits to coming up against some top class forwards in his time, In particular, the former rock-solid right full back recalls the exploits of Tyrone's Frankie Donnelly and Down's Paddy Doherty, with a rare mix of respect and undiluted appreciation of their respective talents. Of Messr. Donnelly, Michael explains that "he was bloody to fast" while Doherty is similarly highly exalted and is described as "a very skilful footballer who was very difficult to watch even though he was only on the way up in my day."

Married to Newry lady Mary Larkin, Michael McKnight played his part in creating his won piece of history when teaming up with his brothers Felix and John for the Armagh Seniors in the 1958 Ulster Championship. Pitted against outgoing Ulster kingpins Cavan in the provincial semi-final tie at Castleblayney, the game wasn't quiet the celebration all Armagh fans would have hoped for but for the McKnight clan though, it was a real red letter day. A former star Minor with the Orchard County, and a successful doctor theses days based in Perth, Australia, Felix (56) came on in the course of the tie in a unique link-up with brothers John and Michael. Operating from full back with John to his left and Michael out in the other corner, Felix produced a blinding performance in adversity and looked for all the world a clone of brothers-in-law James and Dan McCartan (Felix is married to Delia McCartan). A team mate of Jimmy Whan (Armagh) and a fine successor to the mantle engineered by his older brothers before him, Felix's later departure to foreign lands certainly did the Down and McCartan ambitions no harm whatsoever but needless to say, Armagh's loss was great.

Superb Killeavy ambassadors on the Armagh team in succession to men like Peter Quinn and Vincent Mulholland, the McKnight brothers were indeed a class act. More daring than the Three Musketeers, more intelligent than the Three Wise Men, and more exciting than a hat-trick of goals - John, Michael and Felix McKnight had few peers. The best of produce, in fact, from the Orchard County.
Most Read Stories