Forde: my ship has sailed
February 08, 2013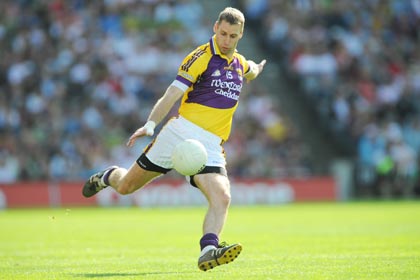 Mattie Forde on his way to another score for Wexford
Wexford great Mattie Forde insists he will not be coming out of intercounty retirement.
The Kilanerin clubman is still only 33 and many believe he might still have something to offer Wexford football, but the former All Star attacker feels he could never get up to senior intercounty pace again:
"I missed the 2009 season with injury and played in 2010 but didn't get a full season of training," he says in today's Irish Sun. "And after having an operation on my back, it means 2008 was the last season where I trained properly.
"I always recall the 2008 All-Ireland where Stephen O'Neill came on in the final against Kerry after he had pulled out of the Tyrone squad about four months before and he looked out of place - and he is a fella who always looked after himself.
"If I went back, I would be trying to roll back five years to when I last trained to that level. There is just no way I would be fit enough for 70 minutes.
"I spoke to Aidan O'Brien at Christmas and he is a man I have huge respect for and I would love to have worked with him but I think that ship has sailed.
"You might still think that you could do a job and be playing okay at club level, but realistically there is just no comparison."
Most Read Stories