Forde bows out
January 16, 2011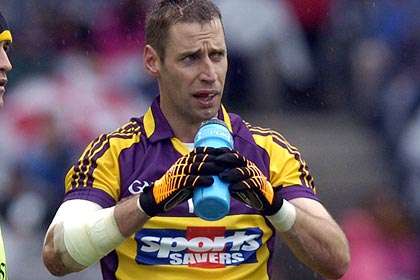 Wexford's Matty Forde
Wexford's only football All-Star Matty Forde has announced his retirement from inter-county football.
The 31-year-old Kilanerin clubman, who was one of the top forwards in the modern game and was named as the GPA's Footballer of the Year in 2004, has cited a long-standing back injury as his reason for retiring after 11 years in the purple and gold.
"I always said the time to bow out was when I was not enjoying it anymore and that time has come," he told The Sunday Independent.
"For the first time ever I wasn't enjoying it and when last year's championship came to an end I knew that was me done. I had chronic back problems over the past two years and it took a lot out of me. The hunger was gone but I took my time over last winter to decide. I met Jason Ryan, told him I wasn't coming back and that's my decision now."
Forde went on to reveal details of the suffering he endured with his back before having surgery in 2008:
"For three weeks, I could only sleep 20 or 25 minutes a night. There was chronic sciatica and my legs were weak from it. I would have to get up in the middle of the night to put a hot water bottle on my leg or go for a walk to get some relief. Anti-inflammatories were only like Smarties to me in the end. I would have loved to have won championship silverware. I really would. In a flash, I'd trade all the individual awards just for one Leinster title.
"Still, I look back on the last 11 years with nothing but happy memories. We came from nowhere, hadn't won two games in a row for donkey's years when all this started for me back in 1999 and we ended up beating almost every top team in Ireland during that period, playing in a Leinster final and an All-Ireland semi-final."
As well as being Wexford's only football All Star (he was honoured at left corner forward in 2004), Forde was recently voted onto the best Leinster team of the past 25 years. He has also represented Ireland in the International Rules series. He will continue to play with his club, with whom he has won four senior championships.
His retirement coincides with a disastrous start to the year for Wexford who have suffered a crushing O'Byrne Cup defeat to DIT last weekend and were also on the receiving end of a heavy O'Byrne Cup Shield defeat to Dublin this afternoon.
Most Read Stories