Attendance disappoints Munster Council
June 18, 2012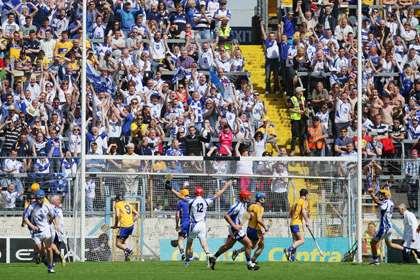 Waterford's Eoin Kelly celebrates scoring from the penalty spot
Munster Council chairman Sean Walsh has expressed disappointment at the attendance for yesterday's Munster SHC semi-final between Waterford and Clare in Thurles.
The Kerry native admitted that the 12,296 attendance was below what they had expected. Last week, Waterford selector Ken McGrath described the €30 stand ticket price as "crazy".
"We were looking for between 13,000 and 15,000. The last time they met in Thurles (the 2010 semi-final which was played on a Bank Holiday Monday) the attendance was 11,000 in Thurles. But Sunday's attendance, just above 12,000, was a thousand short of what we expected," Walsh is quoted as saying in The Irish Examiner.
The chairman, who is expecting 30,000 at next Sunday's second semi-final between Cork and Tipperary in Pairc Ui Chaoimh, defended the Council's ticket pricing.
"We just have to realise that this is the situation that we're in and make the best of it. We're monitoring things the whole time but our packages are good enough to get families in and we believe that our packages to the terraces, which can be bought through clubs at reduced rates, are exceptionally good. We feel that we have done enough in that respect."
Walsh's Leinster Council counterpart Martin Skelly, meanwhile, was delighted with the 16,178 crowd at yesterday's hurling and football double-header in Portlaoise.
"We were very pleased with the crowd - we were looking at a crowd of 12,000 attending and we were thrilled with those who came on the day," he said.
"The crowds so far have been tremendous. There were over 5,000 at the (Meath v Carlow) replay in Tullamore on Saturday. Again, that was above what was expected so things have been positive."
Most Read Stories