Three brothers named in Waterford minor team
May 02, 2012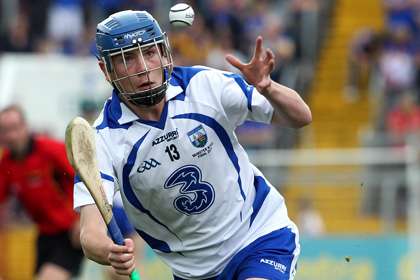 Waterford's Stephen Bennett
A small piece of history will be made tonight when three brothers line out for Waterford in their Munster MHC first round clash with Clare in Ennis.
In what is believed to be a first for county minor hurling, the Bennett siblings - Kieran (17), Stephen (16) and Shane (15) - will feature on the same team. It hasn't been unusual for three or even four brothers to play together on the same senior team - think of the Dooleys in Offaly, the Fennellys in Kilkenny, the Connollys in Galway, the Cuddys in Laois and the Kilcoynes in Westmeath - but it is certainly a rarity at minor level.
The brothers' father, former Waterford star Pat Bennett, said in the Irish Examiner: "It is a very special honour for myself, for Anne, and for the family, to have the three boys chosen on the same Waterford minor team. Obviously, I hope that it will go well for them, but of course the most important thing is that the team get the required result."
Waterford (MH v Clare): S Barry (captain); K Bennett, T Bourke, Shane Bennett; K Power, S McNulty, T Devine; C Sheahan, C Leamy; D Foran, M Harney, A O'Sullivan; Stephen Bennett, D Flynn, C Curran.
Most Read Stories