O'Shea always believed
July 07, 2014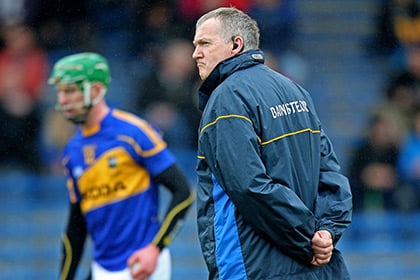 Tipperary manager Eamon O'Shea. INPHO
Eamon O'Shea never lost hope during Tipperary's do-or-die All-Ireland hurling qualifier against Galway on Saturday.
Six points down entering the final quarter, the Premier put in a storming finish to win by nine and give O'Shea his first championship victory in five attempts since becoming manager two years ago.
It's a good feeling," he said.
"It's a good feeling, just for the team, you know?
"I've always said that the manager takes the heat at times but the team are the thing that matter because they're the ones that go out and perform on the pitch. They're at an age where they want to express themselves and we just encourage them to express themselves.
"I felt at half-time that the lads were determined to do something, we knew they'd have a spell again. When you haven't lost the will to survive with the hurling we have, then things can happen. It doesn't always happen, but things can happen, and that's what I was looking at."
He added: "I'm absolutely thrilled for the players. Contrary to what people think, they're actually the easiest bunch to manage. Maybe I'm not a brilliant manager, but they're actually easy to manage.
"They work really hard, they make mistakes like everybody does, but they're actually a thrill to be around, in terms of their hurling. I was just happy that they could show that on a big day, that for me is the thrill."
Most Read Stories