Cunningham blasts GAA as venue row rages
September 09, 2010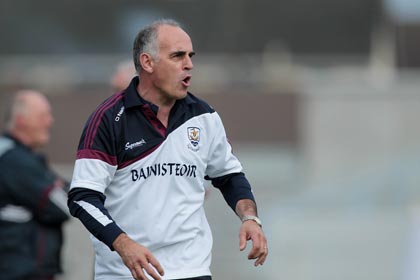 Galway hurling manager Anthony Cunningham
Galway manager Anthony Cunningham has accused the GAA top brass of acting like dictators in fixing Saturday's Bord Gais Energy All-Ireland U21HC final for Semple Stadium.
The Tribesmen have reluctantly agreed to travel to Thurles to take on Tipperary in their own backyard with Cunningham revealing that they decided against boycotting the final due to the possibility of their players incurring heavy suspensions.
Cunningham blasted: "It's very disappointing, the dictatorial stance from Croke Park, from senior management down, the president to the CCCC. We haven't got a fair hearing in Galway and everyone knows that. Last Sunday was a defining diktat from Croke Park, and it was a diktat, that the match would be in Thurles.
"They were carrying out loads of different ways to have this issue debated, and that didn't happen in a just way. There hasn't been fairness and honesty in this.
"Our feeling through the hurling board was that we shouldn't fulfil the fixture in Thurles. There should have been an alternative venue and every genuine hurling guy in Galway and across the country would recognise that was valid. There are larger things at play here. That would lead to further problems with Galway and suspensions, and we've been asked by the hurling board to play the match."
Cunningham believes Croke Park have erred in planning to play future U21 finals in Thurles and revealed the depth of annoyance in Galway over the decision.
"They have taken the decision that the finals are in Thurles for the next while but I think they made a mistake. The proviso should have been that if it was Tipperary in the final, there should have been an alternative venue chosen.
"But we would have to say that we are very disappointed. We're very annoyed that the fixture is in Thurles, playing a home team in their home ground. It's unprecedented that a national final is played in a home venue of a team."
GAA president Christy Cooney insisted that director-General Páraic Duffy had not misled Galway officials when they met last Friday in Athlone and defended the CCCC's handling of the situation.
"I wasn't at the meeting, but it is my understanding that Páraic Duffy was very clear on our position," he said.
"I hope that people didn't read too much into that. The CCCC did the job and I would stand over that. Seamus Woods is a top class chairman, very articulate about the way he does his business. We have a very good committee there. I have no questions about the integrity of the CCCC. They picked the best venue for the game.
"It's just the rub of the green that it's in Thurles. I let it be known on Monday that I think it's going to be the venue for a lot of U21 finals if we decide not to play them in Croke Park.
"We have two covered stands, we don't know what's the weather going to be like and it's great that the spectators are going to have comfort. I think it's a perfect venue, it is central to nearly every hurling county so it's a perfect venue with excellent accommodation. I can understand (Galway's view), but we have to do what's in the best interests of the Association."
Most Read Stories