Coaching book launched by Shane Caulfield
January 17, 2013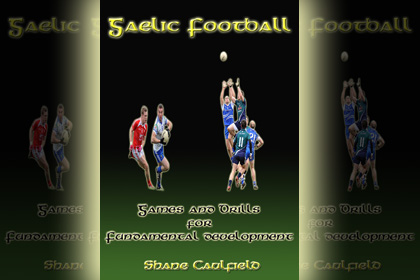 Gaelic Football Games and Drills for Fundamental Development
"Gaelic Football - Games and Drills for Fundamental Development" is an A6 pocket size handbook perfect for Gaelic games coaches and primary school teachers who are interested in exploring practical ideas to revive coaching and development techniques in Gaelic football.
The author, Shane Caulfield, begins by outlining the practicalities of coaching. The various types of skills, the use of skills in different environments and skill transfer techniques are explained. The Coaching theories and models are investigated, as are feedback, communication methods and approaches from coach to player. Learning theories are explored for the coach to assist the player acquire, develop and perform each skill effectively. Planning, evaluating, organisation and reflection methods are also discussed.
150 games, drills and small sided games (SSG's) for Gaelic Football and fundamental development, suitable from U6's to U18's have been compiled. These easy to follow drills are sports specific practices focusing on visual and spatial awareness, movement and skill development. The drills have a quick cross reference layout to target the main components of fitness; speed, agility, core strength and flexibility, with many progressions.
These drills are most effective in a realistic game setting to help the player quickly adapt to the environment while improving their performance in a competitive situation. Practice and repetition will facilitate the development of skill variation, their decision making and communication techniques as well as improving their confidence in executing a skill effectively.
Please contact Shane Caulfield on
[email protected]
for more details on how to order or purchase and also follow the Facebook page, "Gaelic Football - Games and Drills for Fundamental Development" for constant updates and reviews.
Most Read Stories