IFC: Ballinabrackey book final spot
September 22, 2014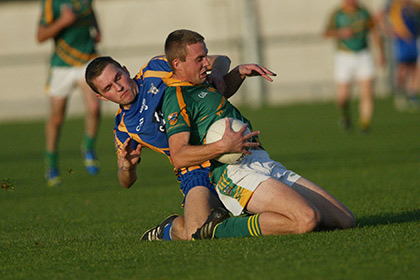 Ratoath's Conor McGill with Danny Quinn Ballinabrackey during the Meath IFC semi final at Trim.
Ballinabrackey 1-11
Ratoath 1-10

14-man Ballinabrackey emerged deserving winners of this hard fought Meade Potato Co IFC semi-final played in Trim.
Ballinabrackey showed great spirit and resolve with this victory having to play most of the game with 14 men. Centre back Nicky Judge was sent off following two yellow cards after 20 minutes.
Ratoath were first to score when Joey Wallace pointed from the throw in. Wallace kicked his second point in between two fine efforts from Danny Quinn and Trevor Bannon. With ten minutes gone it was tied at 0-2 each. Bryan McMahon struck for a Ratoath goal but almost immediately The Bracks replied with their own, Bannon flicked the ball to the net to tie the game once more. Midfielders Chris O'Connor and Damien Carroll added points and with ten minutes left the winners led 1-4 to 1-3. The dismissal of Judge inspired The Bracks and they added three points without reply from Evan Daly, Danny Quinn and Carroll. McMahon finished the scoring with a point and Ballinabrackey went in at the break 1-7 to 1-5 ahead.
The Offaly border outfit pushed that lead out to four early in the second half with two pointed frees from county man Damien Carroll. McMahon and Bannon traded points before Ratoath began to dominate. Wallace, Frank Coyne and Cian O'Brien added points to narrow the gap to a point. As Fergie Power's men pushed forward looking for the equaliser Ballinabrackey through Seamus Curry struck for the score of the game. It was backs to the wall stuff for the winners in the final five minutes. Bobby O'Brien narrowed the gap to one but The Bracks defence dealt with anything Rataoth threw at them and they held on for a memorable win.
Best for the winners were Ger Crehan, Derek Flynn, Dara Kennedy, Damien Carroll, Andrew Munnelly, Trevor Bannon and Danny Quinn.
Best for Ratoath were Cian O'Brien, Conor McGill, Joey Wallace and Brian Power.
Ballinabrackey: Ger Crehan, Michael Kearney, Derek Flynn, Kevin Darby, Dara Kennedy, Nicky Judge, Pat Loftus, Damien Carroll 0-4, Chris O'Connor 0-1, Seamus Curry 0-1, Andrew Munnelly, Trevor Bannon 1-2, Vinny Mooney, Danny Quinn 0-2, Evan Daly 0-1.
Ratoath: Colm O'Riordan, Brain Daly, Conor McGill, Paul Flaherty, Emmet Boyle, Brian Power, Darragh McGill, Cian O'Brien 0-2, Keith McCabe, Eoghan McMahon, Bryan Mcmahon 1-2, Bobby O'Brien 0-1, Joey wallace 0-3, Francis Coyne 0-1, Gavin McGowan 0-1. Subs: Stephen O'Brien, Gareth Rooney, Colm Nugent
Referee: Colm McManus
Most Read Stories