SFC: Rathkenny come up just short
August 17, 2014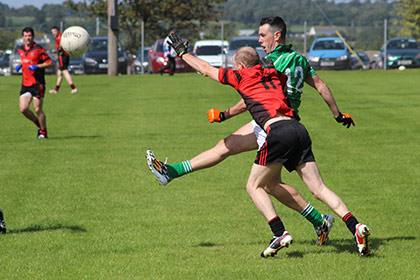 Andy Tormey kicks a point for Donaghmore Ashbourne as Rathkenny's Donal Curtis closes in during the hoganstand.com/Meath SFC game at Walterstown.
Donaghmore-Ashbourne 2-11
Rathkenny 2-10
Rathkenny will be disappointed with the end result as too many opening half wides were prove costly in the end of this Round 4 Senior Championship game played in blustery Walterstown last Sunday August 17th.
Rathkenny started well, aided by the strong blustery wind blowing across the pitch with the three opening points from Donal Curtis, Caolach Halligan and a Thomas Martin with seven minutes on the clock. Donaghmore Ashbourne reduced the arrears before a Caolach Halligan free extended the men in red and blacks lead back to three on eighteen minutes. The men in green reduced the arrears once more before John Donegan netted for Rathkenny on 21 minutes. Two minutes from the break Donaghmore Ashbourne reduced the gap to two points when they goaled from distance. Donal Keogan ventured forward to send over the final point of the half as Rathkenny led by three at the break.
The wind was picking up at the start of the second half and Rathkenny needed a good start. They got the perfect start as Brian Meade sent a sideline ball towards goal and John Donegan got the vital touch to send the ball to the net. The Dublin border outfit sent over two quick points before gaoling on 35 minutes. Rathkenny net minder Barry Carolan blocked the initial effort but was hapless as the rebound crossed the empty goal for a tap in. This left the minimum between the teams and within five minutes Donaghmore Ashbourne had sent over four unanswered scores to lead by three. Rathkenny knuckled down and replied with scores from corner back Joe Gore, Caolach Halligan and John Donegan at the three quarter stage. Both teams traded points to the end as Brian Meade and Donal Curtis sent over frees for Rathkenny. Donaghmore Ashbourne got their noses in front again with a point on 59 minutes. Both sides had chances in the injury time played but the Red and Blacks could not get the desired score and now remain rooted to the bottom of the group with one game to play.
Rathkenny - B. Carolan; Joe Gore (0-1), J. Macken, N. Branigan; T. McGuinness, D. Keogan (0-1), R. Gore; B. Meade (0-1), C. Meade; I. Lenehan, D. Curtis (0-2), Jack Gore; C. Halligan (0-3), J. Donegan (2-1), T. Martin (0-1). Subs - O. Elliott for Jack Gore, K. Timmons for Halligan, S. Crosbie for Curtis.
Donaghmore Ashbourne remain unbeaten in Senior Championship
Senior Football Championship; Group C Round 4
Full Time: Donaghmore Ashbourne 2-11 Rathkenny 2-10
Half Time: Rathkenny 1-5 Donaghmore Ashbourne 1-2
This was a victory ground out of character and stamina as Donaghmore Ashbourne maintained their unbeaten status in Group C of the Senior Football Championship. There were many times during this game where Rathkenny looked the dominant team with the flow of momentum with the North Meath men. Donaghmore Ashbourne, however, never pushed the panic button and as the game progressed they slid into full stride to regain control and carve out a deserved victory.
The early exchanges fell in favour of Rathkenny as they grasped control, imposing a high level of intensity to proceedings. Within two minutes they had their first point of the game and this was followed by further points on six and eight minutes. Michael Deegan opened the scoring for Donaghmore Ashbourne on nine minutes with a well taken score off the outside of the right boot.
Rathkenny at this stage were creating problems for the Ashbourne side and their dominance around the middle third was ensuring frequent supply to the mobile and strong forward line. Rathkenny's inaccuracy in shooting was keeping the scoreline close as they hit four wides between the tenth and sixteenth minute. Within this period Jack Hannigan pulled of a wonderful save as he blocked a low shot from close range. The bounces of the ball were falling to the North Meath side and although Eoighan Riordan pulled a score back for Ashbourne, Rathkenny capitalised on their authority with a power goal on twenty minutes. A high ball was sent into the full forward, who shrugging off Cormac McGill rifled high past Jack Hannigan.
With the scoreline reading 1-4 to 0-2 Donaghmore Ashbourne moved up in intensity. Ciaran Beirne was introduced for the injured Tony Morgan and a greater pace developed in their play. This suited the Ashbourne men with strong bursts forward from Sean Curran, Andrew Tormey and Conor Carey. On twenty eight minutes an attack from Rathkenny was blocked down by the very committed Bryan Menton. The ball was moved forward speedily to find the hands of Andrew Tormey in full flight. He shot like a bullet from twenty yards past the stranded goalkeeper into the roof of the net. Suddenly Donaghmore Ashbourne were back in the game having absorbed an immense amount of pressure during the opening twenty eight minutes. Rathkenny closed out the half with a point at the stroke of halftime to leave the score at 1-5 to 1-2 heading into the break.
This period of Donaghmore dominance was short lived as within a minute of the restart Rathkenny had the ball in the Ashbourne net. A high speculative ball into the square found an unmarked attacker who fisted past an advancing Jack Hannigan. With a lead of six points built up for Rathkenny, the tide was about to turn fast as Donaghmore Ashbourne went on a scoring rampage hitting 1-6 in the following six minutes. Donaghmore Ashbourne began to play with assuredness, pace and freedom which many of their supporters had hoped to see. The connectivity in their play was rewarded with efficiency in attack as the Dublin border team steamrolled through any challenge placed in their way. Michael Deegan was looking very comfortable roaming around the forty yard line and he slotted over two early points. Deegan then sent a perfect pass to Ciaran Beirne who advancing at speed found himself one on one with the Rathkenny keeper. Beirne's low shot was deflected against the post and Eoighan Riordan caught the rebound to send to the Rathkenny net. In the next three minutes the Ashbourne side scored four points from Andrew Tormey, Eoighan Riordan, Ciaran Beirne and Bryan Menton.
Entering into the final twenty minutes Donaghmore Ashbourne were in control with a greater intensity to the game. Conor Carton was menacing forward and Shane Melia was commanding a central role. The Donaghmore Ashbourne discipline was letting them down as the free count began to rack up. Rathkenny were happy to take advantage of this and added the next four scores with two coming from frees and one from their commanding full forward. Andrew Tormey added a score to bring his tally to 1-2 just as Sean Byrne and Thomas McGovern were introduced. This introduction of fresh energy and speed was well timed as Rathkenny had no answer for the fast moving Donaghmore Ashbourne play. This was epitomised with a movement which saw Sean Curran slot over a wonderful point on fifty two minutes following a passage of play from defence to attack through Conor Carton and Andrew Tormey.
Daragh McGovern was introduced on fifty two minutes and with dominance in the middle of the field the Ashbourne side were unable to convert to scores and pull away. The teams were level until a crossfield ball from Tormey was won by Eoighan Riordan. He set up Sean Byrne who wasted no time in kicking over the bar for the winning score.
Both teams exchanged wides in the final couple of minutes before Padraic Coyle called time to give the victory to the men in green.
Donaghmore Ashbourne displayed periods of dominance and impressive play which can see them be contenders for the Senior Championship this year. The introduction of substitutes was of immense benefit with intensity increasing as the game went on. With qualification to the knockout stages assured Donaghmore Ashbourne will rely on the fitness and stamina in the full squad to keep their Championship challenge on track.
Donaghmore Ashbourne: J. Hannigan; J. Boland; C. McGill; C. Carton; P. Gilligan; S. Melia; JP Casserly; B. Menton; C. Carey; S. Curran; E. Callaghan; A. Tormey; E. Riordan; T. Morgan; M. Deegan. Subs; C. Beirne for Morgan (21 mins); S. Byrne for Callaghan (50 mins); T. McGovern for Casserly (50 mins); D. McGovern for Curran (52 mins).
Most Read Stories