SFC: Late goal gives Skryne the points
April 14, 2013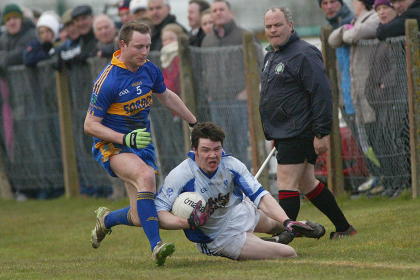 Skryne's Harry Rooney with Summerhill's Stephen Husband during the hoganstand.com SFC game at Sean Newman Park Bohermeen.
Skryne 2-8
Summerhill 1-10
Two late goals saw Skryne pull this match out of the fire in blustery Bohermeen in the opening game of Group B in this year's championship. Playing against the strong wind in the first half Skryne found it hard to score registering only 2 points while Summerhill posted a goal and 4 points. The goal came when a ball, which hit the post, wasn't effectively cleared and ended up in the back of the net.
Despite this setback Skryne refused to panic and scored the first point of the second period on 32 minutes. This was cancelled out almost immediately but three quick points from Paddy O'Rourke and Ian Davis made this a two point game. Summerhill scored again to leave three points between the teams but with 15 minutes left on the clock Ian Davis landed what was the score of the afternoon with a long range point from a free outside the 45 meter line out on the sideline. Again this was cancelled by Summerhill. However Skryne now had the impetus and on 52 minutes Davis played in a long ball which was fielded on the edge of the penalty area by Paddy O'Rourke who turned and slotted home his shot for a goal. The match was now level for the first time. However, it was Summerhill who rallied and scored two more points on 56 and 57 minutes.
Time was running out for Skryne but a ball, which should had been cleared by Summerhill, rolled to the feet of Mark Battersby who drove it to the back of the net to give Skryne the lead for the first time in the match, on 59 minutes. Battersby pointed again on 60 minutes to leave the gap at two points. While Summerhill did score the last point of the match, three minutes extra time had already been played and the referee blew the whistle for full time.
Skryne: F. O' Rourke, N Lehehan, D McGoldrick, D. Brennan, P. Fox , C. Lenehan, R. McCabe, A Tuite, H. Rooney, P.O'Rourke (1-1), M Battersby (1-1) (2), I. Davis (4), C. O'Brien , K. Mulvany (1), K. Reilly (1) Subs B. Davis for Tuite(20min) N Burke for B.Davis (47min)
Referee: Liam O' Brien. Duleek.
Most Read Stories