SFC: Pat's win goal-fest
September 09, 2012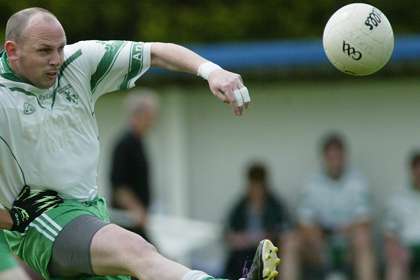 Ronan Kearns St Pats
St.Patrick's 6-07
Moynalvey 3-08
St. Patrick's had a fairly comfortable victory over Moynalvey in Dunshaughlin on Saturday evening in this hoganstand.com SFC tie.
Moynalvey opened the scoring with a free kick inside the first minute but Pat's instantly replied when Niall Mooney blasted a rebound to the back of the net. Moynalvey got a good score from the left wing but it was deja vu all over again at the other end of the pitch as a Barry Mooney shot was saved by the keeper and Niall Mooney pounced on the rebound and fly-kicked it to the roof of the net. On twelve minutes Moynalvey converted a free kick but then Pat's went on a scoring run.
Donal Landy scored a fisted point which Cormac Sullivan followed up by sending a left-footed shot over the bar. Landy was then on the end of a great team passing move to finish the ball to the back of the empty net for Pat's third goal and he followed this up with another well taken point. Moynalvey got two quick points back but in first half injury time Pat's went on another spree. Niall Whearty converted a free before Landy stole in on the back post to fist the ball into the net for a goal after great work by Niall Mooney. To round off the half Daithi Whyte got a goal for himself after a fantastic intricate passing move which left the halftime scores St.Patrick's 5-04 Moynalvey 0-03.
Daithi Whyte picked up where he left off in the second half by scoring a good left footed point. Donal Landy then popped over a point to extend Pat's lead to 16 and it looked like plain sailing. However, Moynalvey countered with a quick goal at the other end before swinging over a fantastic side-line ball five minutes into the second half. The game got scrappy as both side made a raft of substitutes and it was the 48th minute before Moynalvey got the next point of the game.
Moynalvey made a late charge in the final ten minutes, scoring two goals that were sandwiched only by a Niall Mooney free which left only six points between the sides with four minutes left on the clock. However after a penalty was awarded Niall Mooney stepped up and sent the keeper the wrong way to score before Moynalvey converted a freekick in the last minute to leave the final score St.Patrick's 6-07 Moynalvey 3-08.
Best for the Pat's were Ronan Kearns, Andy Mooney and Niall Mooney.
St.Patrick's - Eabhan Connolly, David McQuillan, Ronan Kearns, David Stafford, Shane Dowling, Darren Hagan, Andy Mooney, Cormac Sullivan(0-1), Barry Mooney, Brian Calvey, Niall Whearty(0-1,1f), Ciaran Calvey, Donal Landy(2-3), Niall Mooney (3-1,1pen, 1f), Daithi Whyte (1-1). Subs: Barry Campbell for C. Calvey 17', JP Ryan for Campbell 21', Ciaran Calvey for Sullivan 44', Neil O'Flaherty for Whyte 44', Niall Russell for Kearns 48'.
Moynalvey went down to St. Patricks by eight points in this final round group A game of the Hoganstand.com Senior Football Championship played at Dunshaughlin on Saturday September 8th.
Moynalvey 3-8 St. Patricks 6-7
With Moynalvey's championship campaign already over and St. Patricks guaranteed progress to the knockout stages an under strength Moynalvey side found it hard to motivate themselves for this tie. Moynalvey opened the scoring in the first minute with a Mark O'Sullivan free kick but sixty seconds later St. Patricks took the lead when finding the net. Moynalvey responded with a fine score from wing half back Anthony Forde but found themselves four points behind after just seven minutes as Pats second score was another goal. Another O'Sullivan free for Moynalvey in the 12th minute narrowed the deficit to three points. Pats then went on a scoring spree clocking up 1-3 before Moynalvey registered their fourth point of the game in the 26th minute, leaving the score board reading 3-3 to 0-4 in favour of the East Meath side. O' Sullivan opened his account from open play in the 29th minute to leave seven between the sides, 3-3 to 0-4. Just as the half time whistle loomed St. Patricks went on another scoring spree in injury time, rounding off their first half goal fest to hold a massive 14 point lead at the interval on a 5-4 to 0-5 score line.
Pat's started the second half as they had left off the first, posting the first two points of the second half to lead 5-6 to 0-5. However Moynalvey tightened up their rearguard in the second period and held their opponents scoreless between the 32nd and 58th minutes, while adding 3-2 to their tally narrowing the deficit to six points with two minutes of normal time remaining. Mark O'Sullivan took his personal tally to 1-4 when he netted in the 3rd minute of the second half and sent over a sublime sideline kick two minutes later. Almost 15 minutes passed before the games next score arrived when Moynalvey midfielder Stephen Donoghue sent over after receiving a superb cross field pass from substitute Darren Brennan, who had taken to the field to replace the badly injured Luke Duffy who was stretchered off the field. A late burst from Moynalvey in the final 10 minutes saw Mark O'Sullivan find the net for a second time, before he provided the assist for substitute William Harnan to rattle the net, leaving the score board reading 5-6 to 3-7 with four minutes remaining. St. Patricks fired over a free before converting a penalty in the final minute to leave the final score reading 6-7 to 3-8 in favour of the Stamullen men.
Best for Moynalvey were Anthony Forde, Padraig Donoghue, Stephen Donoghue and Mark O'Sullivan.
Moynalvey: O. Regan, R. Kiernan, P. Weldon, W. Mahady, A. Forde (0-1), P. Donoghue, B. O'Keefe, S. Donoghue (0-1), D. Smith (0-1), L. Duffy, M. O'Sullivan (2-5), D. Donoghue, C. Ennis, K. Hyland, J. Kelly. Subs: D. Brennan for Duffy, P. Conneely for D. Donoghue, W. Harnan (1-0) for Hyland, A. Brien for Kiernan.
Most Read Stories