IFC: St. Colmcilles renew chances
July 19, 2010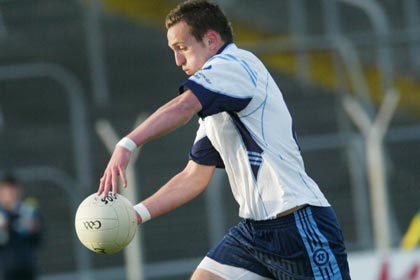 St Colmcille's Graham Reilly
St Colmcilles took part in this "do or die" game in Kilberry last night, Friday 16th, against last years finalists Kilmainhamwood. The Cilles had to win to have any chance of continuing in this years Championship.
St Colmcilles 1-12
Kilmainhamwood 1-10
The Seasiders got off to by far the best start with two goal chances from mid fielder David Sheerin, who coverted one of these into a point to open the Cilles account.
This were followed up with a point from John McKenna, who then went onto score the Cilles only goal of the game. The Cilles had the majority of the posession in the first quarter and it showed on the score board, 1-03 to 1 point after 15 minutes, with Johnny Tuffy and Sheerin dominating mid field with Ian Mullen, Damien Beakey and Mark Magill picking up the majority of the breaking ball. The backs also did well to get the ball back out when Kilmainhamwood did get posession, especially Frankie McCloskey and Mattie Metcalfe. Graham "Biggy" Reilly scored a couple of great points for the Cilles, showing while he's representing the Club with Meath.
The Woods then came back into the game scoring a number of points with the Cilles leading 1-05 to 5 at half time.
Only one change for the Cilles at half time, saw Enda Grogan coming on for full forward Sean Collier. The Cilles struggled in mid field until Grogan came out and joined Sheerin in the middle which made all the difference for the Cilles who struggled here in the first quarter of the second half, with Kilmainhamwood making their possession count with an early goal leveling the sides, and then taking a one point lead. Karl Mullen was taken off to give Eoin Woods a chance to clear up some of the posession.
However, the Cilles rallied and took back their mid field dominance getting lots of good ball to Ben Brennan and Ciaran Kelly who took their chances well.
The Cilles finished the strongest, giving them a much needed win to keep them in contention.
Colmcilles: Darren Magill, Mattie Metcalfe, Frankie McCloskey, Eoin Sarsfield, Karl Mullen, Mark Magill, Ian Mullen, David Sheerin, Johnny Tuffy, Ben Brennan, Graham Reilly, Damien Beakey, Ciaran Kelly, Sean Collier,
Subs: Enda Grogan for Sean Collier (HT), Eoin Woods for Karl Mullen (35 mins).
Scorers for Colmcilles: Graham Reilly 0-3, Ciaran Kelly 0-3, 1 Free, John McKenna 1-2, Ben Brennan 0-2 1Free, David Sheerin 0-1, Mark Magill 0-1 Free
Most Read Stories