Louth great Stephen White passes away
September 07, 2009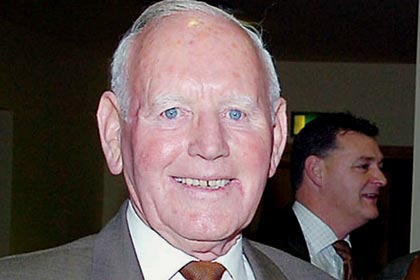 The late Stephen White
Louth GAA is in mourning following the passing on Sunday September 6 2009 of their legendary footballer Stephen White. Cooley-born Stephen did the Wee County proud when he was named at left half back on the GAA's Team of the Century. He starred on the Louth side that famously won the Sam Maguire Cup in 1957 and also collected four Leinster SFC medals in the red jersey. In 1999, Stephen - father of former Louth and Monaghan footballer Stefan White - was inducted into the Louth GAA Hall of Fame. He played for Louth for 16 years and also enjoyed an accomplished club career, winning a Ranafast Cup and JFC with his native Cooley before switching to Young Irelands, with whom he tasted SFC glory. He is widely regarded as Louth's greatest footballer ever. Stephen and his late wife Carmel ran a well-known pharmacy in Castlebellingham. Carmel was sister of Jim McDonnell, who also starred on the '57 team.
Pasted below is a piece I wrote on Stephen White for the 1999 Louth GAA Yearbook. On top of all his footballing accomplishments, he was also an absolute gentleman:
Louth's Stephen White
In 1999, Stephen White was at last inducted into Louth GAA's Hall of Fame. Gerry Robinson meets the man who sports the No.7 jersey on the Team of the Century. Stephen White was one of the Wee County's greatest ever footballers. That's a fact. For confirmation, just take a look at the Team of the Century ( never mind the so called 'Team of the Millennium'). You'll see the Cooley-born Castlebellingham resident selected at left half back, completing a line which also includes Kerry's Sean Murphy and Cavan legend John Joe O'Reilly. Also in defence on the team are Galway's Enda Colleran, Meath's Paddy O'Brien and Sean Flanagan of Mayo. Kingdom pair Mick O'Connell and Jack O'Shea make up the midfield. Further upfield are Sean O'Neill (Down), Sean Purcell (Galway), Pat Spillane and Mikey Sheehy (Kerry), Tom Langan (Mayo) and Kevin Heffernan (Dublin). Danno Keeffe from Kerry has the goalie's shirt. Louth's White finds himself in illustrious company but common opinion is that he is well worth his place on this team . . . and any other list of the Association's all-time greats. I'll write my opening sentence again. It should read: Stephen White was one of the greatest footballers ever. Stephen says he was "delighted" to finally enter into the Hall of Fame in '99. Even though he's already won so many honours - four Leinster championships, an All-Ireland and selection on the Team of the Century. Which means the most to him? "Winning an All-Ireland with your county has to be the biggest achievement. It was great to win it in '57 but I have to say that team could have won a few more. I think we left a few behind us. In 1949, for example, the year in which Meath won their first All-Ireland, we took them to three games and they only beat us the third day with a last minute point. In 1950, we got to the All-Ireland final and lost to Mayo by two points. Their winning goal - scored by Mick Flanagan ('the goal from Mick/that did the trick') - shouldn't have counted because he took about ten steps with the ball under his arm. In '53, we had Kerry on the rack and scored more times than they did, but conceded three goals. It finally went right for us in 1957." All in all, Stephen was on the Louth senior team for 16 years, 1947-63, winning four Leinsters and coming close on a number of other occasions. There were some rare old battles with Meath, in particular, in those days . . . with never much more than a point between the two deadly rivals. In 1952, the Royals triumphed by 1-6 to 0-8 in the provincial final. Even after he had won the All-Ireland, Stephen had two more chances at adding to his Leinster medal collection but the Wee County lost to Dublin and Offaly in 1958 and '60 respectively - and haven't contested the province's big day since. Stephen reflects on those two defeats and 'the end' of that particular Louth team: "We didn't recover from the loss of Kevin Behan in 1958 and Dublin went on to win the All-Ireland. In 1960, we went very close against Offaly. We missed a 14-yard free with the scores level and Offaly went straight up and scored at the other end. With a bit more organisation, that Louth team could definitely have won a few more All-Irelands . . . maybe three or four. We certainly had the players." Stephen himself was, of course, one of the best as is borne out by his inclusion on the Team of the Century. Did this come as a huge surprise to the former Wee County wing back? "It wasn't that big a shock because many of the nationals had me listed as a contender and I knew I was probably in there with a good chance. I was quite well known as I had been chosen to play on the Rest of Ireland team on four occasions." The unfortunate thing about the Team of the Century was that nobody ever actually got to play on it! One suspects that Stephen White would have been in his element lining out in that company: "It would have been very easy to play on that team," he concedes, before adding: "The thing is, if you look at all the great footballers there have been over the years, you could undoubtedly pick three or four teams which would be equally as good." Stephen did partner Sean Purcell at midfield on the Galway minor team which lost to Mayo (The Flying Doctor and all!) in 1946. He was studying at Mountbellew Agricultural College that year and was actually chosen to play in two Connacht finals - junior and minor - on the same day! One of the best players Stephen White ever had the privilege of playing on was a little known Breffni man. "At the start of my career I was playing wing forward and one of the best half backs I ever played on was PJ Duke from Cavan who was a tremendous footballer. Unfortunately, he died a young man, in his prime, when he was about 25 . . . but he was a truly great player." On the club front, Stephen started to play with Cooley Kickhams when he was fifteen. Although his spell with the club was short-lived (1944-48), he won a Ranafast Cup and junior championship. It was probably always on the cards that this relationship would come to an early end as, despite being a Louth regular, White apparently wasn't worth his place on the Cooley Kickhams team! In 1948, a small dispute led to the Cooley Kickhams team bus heading off for a match with neither Stephen nor his brother on board. A transfer to Young Irelands ensued. Stephen represented the Irelanders for the rest of his club career and won a SFC with the Dundalk outfit. With all the lads from the '57 team knocking around, Louth football was at a bit of a peak at the time and honours were hard won. "Young Irelands had been very strong but when I joined them that team was coming to an end. I played in four Cardinal O'Donnell Cup finals but lost them all!" Stephen still follows Louth football intently (he was a selector with the county seniors for ten years after retiring). How does today's game compare with that of forty years ago? "They say it's faster, but I don't know. I think it just looks faster because they're all playing basketball. None of the players around today are any faster than Johnny Malone who was our left full. I wouldn't like to be playing in a full forward line today because the ball just doesn't go in; instead, they play it across the full back and half back lines. I can't understand why they aren't getting the ball forward quicker . . . the ball can move far quicker than a man. Solo runs are a dead loss. So, with all the possession football that's being played, the game today is probably slower! If you can run a bit these days and aren't a complete dummy, you have a chance of being selected." The Team of the Century's left half back uses the 1998 clash of Louth and Meath as an example of the merits of playing the ball early: "Louth played the ball early in the first half and Meath simply couldn't live with them. When they started to run with it, they weren't nearly as effective. "The previous year's semi-final defeat to Offaly was a huge disappointment and was, in my opinion, down to bad management. It was thrown away and the management just didn't do their job on the day." Arguably the most controversial decision relating to the day in question was that of manager Paul Kenny to omit Stephen's son Stefan from the starting line-up. When Stefan was introduced as a late, second half substitute, he almost pulled it out of the fire for the Wee County - but it was too late. "Stefan's achievements in football have given me great enjoyment over the years," admits Stephen. "He had attended 95 training sessions in preparation for that Offaly game. The decision to leave him off was a disgrace and I'm not afraid to say that." Stephen's wife (sister of Jim McDonnell from the team of '57 and an aunt of current Louth star Ollie McDonnell) and daughter run a pharmacy in his hometown of Castlebellingham. The great man himself takes it easy these days - as is his wont. In closing, he pays tribute to one of his guiding lights: "Tom McCann from Glenmore gave me great encouragement, inspiration and advice when I was a young lad and it was he who set me on the road." And what a journey that followed!
Most Read Stories