Munster club SFC: Cooper helps sink Limerick champions
November 08, 2010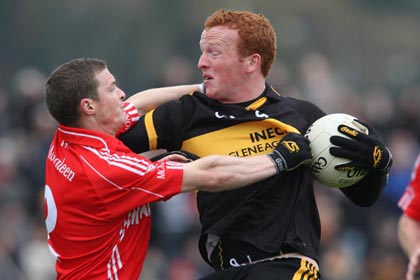 Dr.Crokes' Johnny Buckley has the ball as Darren Bourke of Monaleen closes in during the 2010 Munster Club SFC quarter final in Killarney.
Kerry star Colm Cooper starred as Dr. Crokes demolished (2-13 to 1-3) the challenge of Monaleen (Limerick) in the quarter-finals of the Munster club championship.
The new Kerry captain was in scintillating form as he helped himself to a 2-5 tally at Lewis Park, Killarney.
It was Cooper's two goals which did much to ease the Kingdom kingpins into a 2-8 to 1-2 half-time lead which they easily consolidated thereafter.
Ironically, the Limerick men had the better start to the match with a goal from Mike Crowley helping the underdogs to snatch a 1-0 to 0-1 lead.
However their lead was a short-lived one and Dr. Crokes proceeded to move into a 1-5 to 0-1 lead after 15 minutes with Cooper bagging his opening goal after a sweet one-two with Brian Looney.
The second half saw a far from vintage Crokes display but once Eoin Brosnan, Daithi Casey and Cooper all rifled over points in the opening five minutes of the second half to help extend their side's lead to 2-11 to 1-2, the result was entirely predictable.
Dr Crokes - K Cremin; J Payne, M Moloney, D O'Leary; S Doolan, L Quinn, S Myers; B McMahon, J Buckley; A Kenneally; E Brosnan (0-2), B Looney (0-1); C Cooper (2-5, four frees), D Casey (0-5, three frees), C Brady. Subs used: N O'Connell for J Payne (54); S O'Neill for C Brady (54); J Jones for B McMahon (56); K McMahon for D O'Leary (59).
Monaleen - D O'Sullivan; D Bourke, P King, F Nash; E Keating, B Fitzgerald, P Quinn; B Geary, P Kinnerk; P Russell; L Kavanagh, C Joyce-Power (0-1); M Gavin (0-1 free), J O'Brien, M Crowley (1-1). Subs used: JP Stokes for P Kinnerk (52); C Hickey for M Gavin; S Leonard for C Joyce Power (60).
Ref: Conor Lane (Cork)
Most Read Stories