Cunningham wields the axe
November 21, 2011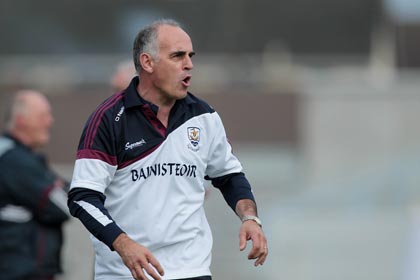 Galway hurling manager Anthony Cunningham
Newly appointed Galway senior hurling manager Anthony Cunningham has dropped one third of the team which featured against Waterford in last summer's All-Ireland SHC quarter-final.
Amongst those dropped from Cunningham's squad are 2011 captain Damien Joyce, along with former skipper Shane Kavanagh and former All Star Ger Farragher in a move which has rocked the county.
Also excluded from the panel are half-backs Donal Barry and Adrian Cullinane, while defender John Lee is another big casualty.
Cunningham and his selectors, Tom Helebert and Mattie Kenny, have picked 18 of this year's Under 21 panel as they opt for youth in their 37-man squad to try and steer the Tribesmen to their first Liam McCarthy Cup since 1988.
"Some of those players who are not included have given years of service to Galway hurling and we acknowledge that, but we think this is the best squad at the moment. It will change, some will come and go," Cunningham told the Irish Examiner.
"We will be monitoring club and college games, as well as the Galway development squad, and the squad will be revised again for the national league."
Galway squad 2012: J Skehill, D Collins, F Moore, T Óg Regan, K Hynes, A Smith, C Donnellan, E Ryan, D Hayes, J Canning, M Lydon, J Ryan, B Daly, C Cooney, D Burke, D Glennon, G O'Halloran, J Regan, J Grealish, J Coen, N Burke, R Cummins, B Regan, I Tannian, B Burke, C Burke, D Cooney, D Fox, F Flannery, N Donoghue, P Gordon, T Haran, A Harte, P Huban, M Horan, B Flaherty.
Most Read Stories