Eugene Moloney to be honoured
May 17, 2013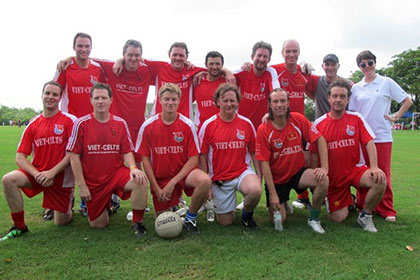 Eugene Moloney (back row, 4th from right) with the Viet Celts and the Irish Ambassador, Maeve Collins in Saigon 2011
Former Viet Celts player and Irish Independent journalist, Eugene Moloney will be honoured at this years' South Asian Gaelic Games to be held in Singapore on 25th May. The South Asian Gaelic Games is for teams from Malaysia, Thailand, Singapore, Vietnam, Indonesia and India. This year will also see some guest teams from China.
Eugene was tragically killed in Dublin in June 2012. The MVP award for the Mens' competition is to be called after him. This idea was proposed by the Vice-Chairman of the Asian Gulf Board, Paraic McGrath and the hosts for 2013, the Singapore Gaelic Lions. Mícheál Ó Muircheartaigh will present the award and say a few words.
Eugene played for the Viet Celts at the 2011 edition of this tournament held in Saigon in May of that year. At the end of that tournament, he was presented with a special commemorative tournament medal as the most mature (in years accumulated) player on the pitch, a medal he kept proudly on display.
Eugene spent many years living in Hanoi and latterly Saigon and was in a long standing relationship with his Vietnamese girlfriend, Chi who owns a hotel and café where some of the Viet Celts stayed for the Saigon tournament. Eugene's finely mixed cocktails at Chi's Café were famous for people passing through Saigon. He was also a very good friend of current Chairman of the Viet Celts, Colm Ross and attended the first Viet Celts AGM in Hanoi in 2008. The Viet Celts appreciate this fine gesture of naming the South Asian MVP award for a fallen comrade.
Jim Kiernan
Most Read Stories