A day in the life: New York's CJ Molloy
May 02, 2013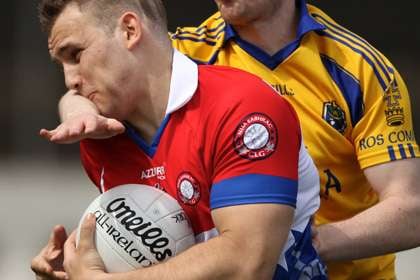 New York's CJ Molloy
Every year, since their participation in the Connacht Senior Football Championship began, visiting teams have taken a bite out of New York in the Big Apple, but the hunger and passion is certainly there for not just a bunch of Exiles, but an increasing number of natives including CJ Molloy who have been coming to the fold in recent years.
The 24-year old is American as you can get, yet his love of Gaelic Games has been developed from a young age, by his Dad and current New York Senior manager Connie, and his uncle Anthony who captained Donegal to their first Sam Maguire success back in 1992.
"I started playing when I was about five years old with the Celtics club in New York. I was really pushed into it by my father and my uncles. I took it up at a young age and brought a tonne of friends into the game who make up a large part of the club.
"Tommy Treanor was one of my first managers. He is the President of the Armagh GAA Club out here right now. He was a big part of things when I first started."
And it all fell into place pretty quickly for Molloy who featured on the New York teams that participated in the All-Ireland Feile Under 14 competition in 2002 and 2003 in Carlow and Galway respectively.
Fast forward to 2008 and Molloy's debut in a New York Senior jersey - a stark lesson, as the American outfit suffered a 0-17 to 0-6 defeat to Leitrim.
A day to forget for the then 19-year old.
"For my debut I'll never forget the jump in quality," CJ said. "I was young, I was still trying to figure things out. I was actually taken off at half-time. I only got my hands on two or three balls.
"I was more of a passenger in that game to be completely honest. I just didn't enjoy it at all. No fond memories from that game, but this year hopefully it will be different."
A talented Basketball player in his youth, CJ jacked in a Scholarship to play Basketball with his University side to focus on Gaelic football with New York.
"I played Basketball too growing up. I actually quit the college basketball team to play for New York. It's all football in my house.
"I went to Fordham Prep in High School and then I went on and played for Union in college, but I had to quit. I quit right away nearly. I got money to go there, a bit of a scholarship, but to play for New York I had to quit. For four years I was travelling up and down, it was three hours each way - so six hours to go to training three nights a week."
CJ recognises the stark realities of being a native and being thrust into the throngs of a Senior Championship match for the first time - something which other New Yorker's Conor and Shane Hogan and Donnacha O'Dwyer found themselves doing against Sligo last year.
"Absolutely. That's why I think last year will stand to us big time. Last year we had the likes of Conor, Shane and Donnacha all making their debuts.
"They did well enough, but being in that position in the past I know how tough it is. It's a tough thing because it is the biggest game in New York. We are not used to playing in front of any kind of crowd on a standard Sunday.
"For the inter-county game you always get the big crowds and there's always a big interest and buzz. People asking you questions about how the team are going.
"I can understand why they might have played poorly. This year there's going to be no excuses, everyone is raring to go and are ready."
The commitment, drive and energy needed to play top-level football is no different for New York than it is for other sides. Molloy says he is lucky with his job in a law-firm, compared with some of the hours others on the squad put in for the New York GAA cause.
"The big thing is we are dealing with New York City. It's a bit different to the draws of Donegal Town or any of the other counties over there. It's a different scenario, New York is hard. We don't get the games, so it's really hard to keep the passion going.
"A lot of boys do, and turn up for training. It's definitely there. The sacrifices that are made to get to training, leaving work, missing school - sacrifices are the same here as they are there.
"We have a few boys coming from Brooklyn, Queens and Long Island. Those are the ones I feel for, because it takes them an hour and a half or two hours sometimes to get to training between all of the trains and buses. It's a bit of a pain, but it just shows the commitment that these guys are coming up to Gaelic Park and the Bronx.
"It's a big, big trip for them, particularly after a day's work down in the City - a lot of it is in construction which is early starts. 6.30 or 7am starts. With myself I'm lucky enough that I work in a Law firm, so I don't have it too bad. I start at nine o'clock.
"The other boys I feel for them starting at 6.30 and then making it over to training. The day doesn't end before 9.30 or 10 o'clock when you get home.
"We start training at 7pm and it normally runs for about an hour or two. Just the commute back for the boys, I couldn't imagine doing that. It's tough.
"We also have boys coming in from college. Donnacha is coming in from Conneticut and that is a big ride out too. He's in college right now, so there's a lot of boys juggling a whole lot of different things to be on the team."
A strong Donegal supporter, the home-land of his Dad; CJ was on the Hill last September when Michael Murphy followed in CJ's uncle's footsteps to lift Sam.
"I was on the Hill and it was a great day. I was very happy about it. Then I was in Ardara for the homecoming and in Donegal Town. I was very happy with that and I think they will do it this year as well too.
"It was a bit of madness for a few days. I was actually glad to get away. I got down to Kerry for a few days after. We went up to Donegal for six days, but it was kind of flat out so we got away to Kerry then.
"I was in Ardara, Killybegs and Donegal Town, just hanging around with all the boys. I have a lot of friends in Ardara, obviously that's where my Dad is from. Anthony Molloy is my uncle, so everybody knows him up there. I have a lot of friends to go to see."
He played alongside Murphy, Paul Durcan, Neil McGee, Anthony Thompson and Neil Gallagher when the All-Stars came to town last December, another special day in the history of New York GAA.
"That was really fun playing with the big boys and seeing how I would stack up. That was just a bit of fun. It was a good weekend and we hung out with them a lot too down in the city and all that. They were a great bunch of guys.
"Those are the guys that they all go to watch on Sunday's and whenever they can see them. That's who they want to see - the big names; and it's what makes it special for the little guys. Little Anthony McGrath, he is the son of Laurence McGrath who is the Chairman of our club. He was delighted meeting all of the players and getting all of the autographs. That's what it is about. The boys were very good to them too in fairness."
From a sea of Green and Gold on All-Ireland Final Sunday in Croke Park, to the green and Gold of Leitrim this weekend - Molloy is hopefully of turning over the current FBD League champions.
"It's a two-horse race and I am a firm believer that there is no reason why we can't beat them."
Most Read Stories