Harte critical of championship format
August 03, 2012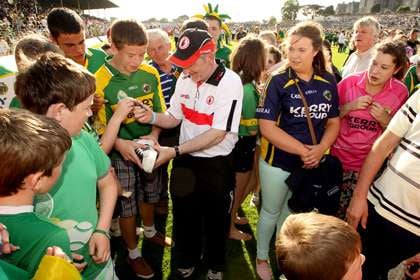 Tyrone manager Mickey Harte takes time out to sign autographs for Kerry fans after the 2012 game in Killarney ©INPHO/James Crombie
Mickey Harte has again voiced his opposition to the current championship system.
On the weekend of the All-Ireland SFC quarter-finals, the legendary Tyrone manager is of the opinion that the four provincial champions are at a distinct disadvantage, not least because they get no second chance.
Writing in his weekly Irish News column, Harte says: "For me, this is the time when the inequity of the current system really comes into focus.
"The momentum is with the Qualifiers and the vulnerability is undoubtedly in the camp of the provincial champions.
"The fact that all four provincial champions - Mayo, Kerry, Dublin and Donegal - made it through to the last four in 2011 should not cloud the issue that the system is skewed against the provincial title holders.
"I was amazed that when the reverse was true in 2010 and not a single provincial champions contested the semi-finals, urgent moves were not made to avoid the potential for such a scenario happening again."
Most Read Stories