"In Kilkenny we don't wait for others to make judgement"
June 14, 2018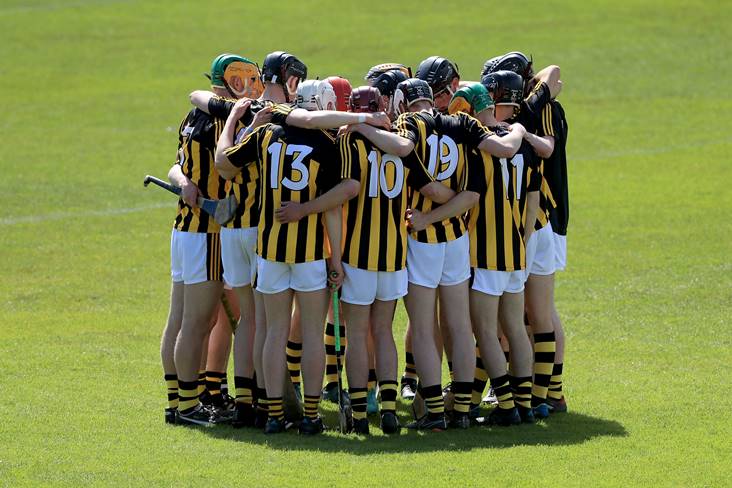 The Kilkenny minor team huddle.
©INPHO/Donall Farmer.
by Damian Lawlor 
It's close to three years since Kilkenny last won the All-Ireland senior hurling title and they're growing a little restless.
High standards, relentless work ethic and an irrepressible drive to win games that are going away from them, those involved in the Kilkenny set-up don't take long to look in the mirror when they feel the impetus is slipping away from them.
A new coaching drive and new shape to their development structures has been implemented. Coaching officer and Development Squad chairman Pat Tyan - along with other colleagues - visited Leinster Rugby recently to see how they do things.
"The thinking was they produce some of the best young players in the world so their academy must be doing something right.
"Something very right. So we went up to them for the day and met their head of Academy. They couldn't have been more helpful and they gave us a real insight into what was going on.
"We took a lot from that and brought it back to Kilkenny."
Tynan took over the Coaching Officer role a couple of years ago and has been busy overseeing the tremendous work being undertaken by volunteers.
They have been working hard at football from under-14 level and hope to field a minor team by 2020.
Many of the coaches and managers who have taken development squads have progressed to taking the county minor and under-21 team.
They have worked hard in the winter time to emphasise the importance of an educated strength and conditioning programme.
And they have bought into the Bank of Ireland Celtic Challenge (All-Ireland under-17 series) too. Currently, their Celtic Challenge team fields 26 players from 14 different clubs.
"Those players were a little off the county minor team and we would have lost them if we didn't have the Celtic Challenge side. There is a massive drop-off rate between 17 and 21 and we are wary of that.
"But these lads will get two months of solid hurling. We play Mid-North Tipp on Saturday in the Division One quarter-final and I would be hoping that three to four of that team will come through and play senior for Kilkenny in the coming years.
"We are starting to see the first graduates from our development squad programme now, though," Tynan says.
"Richie Leahy, John Donnelly, Mossy Keoghan - these guys have come through now and it shows the younger lads what is possible.
"We are giving our coaches and managers the chance to progress through the ranks too and that is a big thing for them.
"Another thing is retaining key personnel. Noel Skehan had been involved for years and maybe felt he wanted to move on. But we came up with a new role for him - going around and overseeing the work that the coaches and managers are doing and that's massive for us as I can't get around to everyone and how could you lose someone like Noel from the system?
"The thing is when we had a couple of years there without winning the general feeling around the country was that we would be gone for a while.
"But in Kilkenny we don't wait for others to make judgement, we tend to spot things ourselves and take a look to see what could be improved. That's what we did a couple of years ago and I'd be hopeful now that it will stand to the senior team going forward.
"We sat down with Brian Cody a while back to outline the changes we were making and the work we were doing and he was happy and the key thing for us now is to keep people involved, stay working hard, and develop our players."
The development squads use the county's Centre of Excellence at Dunmore as a regular base.
The county board furnish the respective squads with enough kit and gear - and players are asked to turn up to each session and meeting with their official training gear.
The players, coaches, administrators and parents all meet at the start of the year to outline what is expected of the year ahead and Tynan  says the buy-in from all is vital.
"Especially the parents," he says.
"When you have the support from home it makes all the difference.
"A different approach is needed these days too- the days of roaring and shouting at lads is long gone. These lads are our future - and when you knit them with the players from our schools, Kilkenny CBS and St Kieran's and so on, we are confident that we are going in the right direction."
They won't scream it from the rooftops but that level of introspection for a county so successful is surely a model that other counties could adapt.
Most Read Stories