Wexford's O'Connor fired-up for championship action
May 18, 2018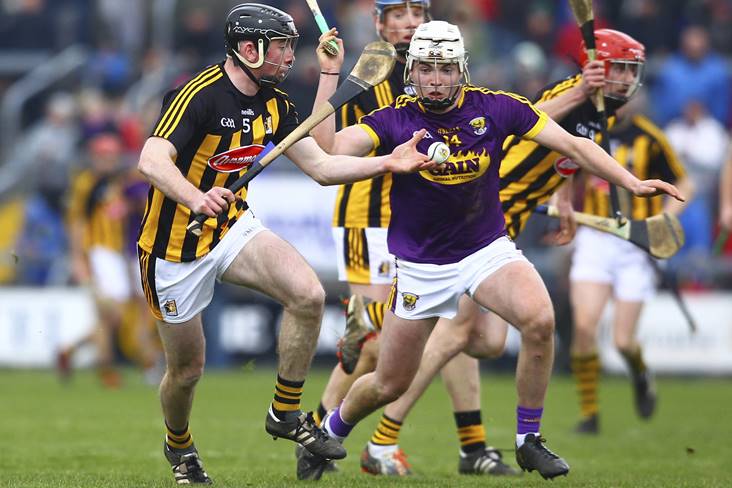 Kilkenny's Conor Delaney in action against Wexford's Rory O'Connor during their side's Allianz HL Division 1 quarter-final clash at Innovate Wexford Park.
©INPHO/Ken Sutton.
by John Fallon
Wexford's Rory O'Connor had a choice to make last summer when he finished his Leaving Cert - he could go off with his mates to Santa Ponsa on holidays or take up Davy Fitzgerald's invitation to join the county senior squad.
It wasn't a decision he spent much time on. A son of former Wexford star John and a nephew of George, he got stuck in with the county squad.
And he was thrown in at the deep to make his debut at midfield in the All-Ireland quarter-final against Waterford, just a day after his 19thbirthday.
Fitzgerald had come looking for him the previous winter but O'Connor, who helped St Peter's win the Leinster colleges football crown last year, opted to complete his Leaving Cert first.
"Once we got through the school we played a round of club senior championship and I got another phone call off him, it was in around May.
"The school had nearly came to an end and we were just studying. I had a few weeks to fill and I just said what else would I be at some evenings? I just went in and trained.
"It was probably a bit soon to make the Laois panel. I made the Kilkenny one, I made the Galway Leinster final one. And it was all when the matches where on.
"It was tough to make your place and make a show for yourself. We had two weeks after a Leinster final before Waterford and there was a few 15 on 15s and I grabbed my chance."
He is now one of the bright prospects as Wexford start out on a championship campaign against Dublin on Sunday full of optimism.
O'Connor, speaking at the launch of the Bord Gáis Energy U-21 All-Ireland hurling championship, said it was an easy decision to make a year ago to link up with the county squad after he finished his Leaving Cert.
"You have a choice to make, you can either go off to Santa Ponsa with the lads or you are called in. These things don't really happen. From my age, if you are called into the panel you are definitely going to go for it. All of sudden, two weeks you are training with the team and you are out in front of 40,000 people, out of this world."
A county championship for St Martin's followed with brothers Jack and Harry, and with knee surgery over the winter, O'Connor has opted to park his football career for the moment and concentrate on hurling.
A decent league campaign has set Wexford up for the championship but O'Connor said a solid start to the campaign is key.
"It's a momentum thing, if you can get a good start that confidence, you are going to have confidence going into the other matches.
"Hopefully, that will help us carry on to win all the four matches. Really, it's the first match that's so essential against the Dubs. And that's going to be a massive battle at Wexford Park."
Stay up-to-date with this weekend's football and hurling championship action on our Match Tracker where we will be bringing live updates and scores from around the grounds.
Most Read Stories