Gilroy won't try to persuade Dublin footballers to switch codes... yet
November 21, 2017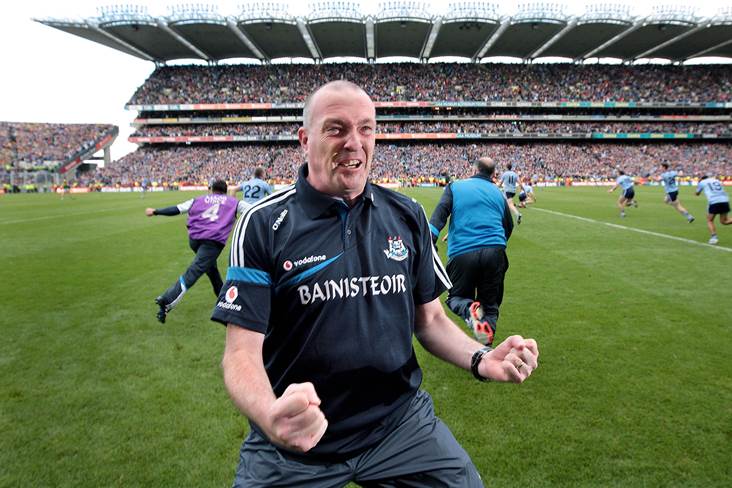 Dublin manager Pat Gilroy celebrates after his side's All-Ireland SFC final victory over Kerry at Croke Park in 2011.
©INPHO/Morgan Treacy.
by John Fallon in Boston
New Dublin hurling manager Pat Gilroy said he doesn't foresee the likes of Diarmuid Connolly or Con O'Callaghan lining out for the hurlers any time soon but he wouldn't rule it out down the road.
Gilroy, speaking in Boston where he took charge of the Dubs for the first time in the AIG Fenway Hurling Classic, said he wouldn't do anything which might harm the Dublin footballers.
And he stressed that players would need to want to play for the hurlers for him to be interested in taking them on board.
"I speak to Diarmuid Connolly regularly because he's a clubmate of mine.
"I don't think Diarmuid is in a position where he wants to commit to the hurling. He's 30-odd now. Unless you're playing hurling a huge amount there's no way you can think about playing inter-county.
"He was starting to get up to speed, to the kind of hurling he could play as a kid in the semi-final, but he wasn't one of Vincent's top players. I think that's the way he feels about it.
"As I said before I'm not going to do anything that's going to damage the footballers. There are enough hurlers in the county without having to interfere with that.
"If a fell wants to commit to that and he's playing with his club and he's playing well then we'll look at it."
Gilroy said that O'Callaghan is a particularly skilful player in both codes and he would love to have him in his side.
"If a fella really wants to play for the Dublin hurling team I will take him and grab him with both hands. But he has to want to do that.
"I'm not going to begging anyone to play for the Dublin hurling team. There's enough fellas that really, really want to.
"And if they really, really want to, they are going to be much better than the fella that's not sure which way he wants to go.
"I think, to be fair to the likes of Con and that, he's going great with the football. It's up to them. They might think at some stage in their lives, I've enough of football, I want to give hurling a go. He's young enough and good enough to do it.
"It will be his decision if he decides I'll give the hurling a lash. Maybe if he goes to March and he decides I'm enjoying the hurling so much, that's what I want to do.
"Myself and Jim (Gavin) will have a very open dialogue about anybody because it's the only way it will work. We're both playing on the same team here.
"We're both Dublin. We won't want to be doing damage to each other. And at the end of the day if a fella's head is turned to football or turned to hurling, let him go that way.
"I know in my own club, if a fella wants to transfer, you just let him off. There's never any objections. Good luck. If you want to go, go.
"You have to have a fella who is really sure in his mind of what he wants to do."
Gilroy said he sees no reason physically why players can't play hurling and football but he believes that the GAA calendar does not lend itself towards that.
"If the GAA wanted to have dual players they could set the fixtures out so that dual players could play. But if you look at the fixtures there is going to be clashes all the time. It is very difficult but it is possible. I don't see why in past generations people were able and they can't do it now. However, the fixtures now dictate if a guy is going to miss out on an important Leinster match or an important All-Ireland match.
"But I think it would be physically possible. A lot of these fellas who are in college and are free for the summer, so there is no reason why they couldn't play both games. Nearly all of our panel and a good few of the football panel play hurling. Pretty much everyone here plays football with their club. If the GAA really wanted to have dual players it could have it but they are making it hard with the fixtures are set out," he added.
Gilroy said that he will leave the Cuala players free to perform for their club until their campaign ends, even if the reigning All-Ireland club champions go all the way to the final in March.
"I'd have a very strong view that when a team is involved with club, you just leave them alone. That's their concentration.
"I haven't discussed anything with them. I got in touch with Mattie Kenny and said: 'look I won't be talking to anybody'. Nothing. I don't want anybody to distract them at all.
"I said: 'as soon as your finished, hopefully that's March, we'll talk to them then.'
"I really firmly believe that the club teams that represent you in the All-Ireland series, you should give them the best chance to succeed. Give them no distraction," added Gilroy.
Most Read Stories