Louth SFC final: Nally points the way for the Blues
October 15, 2017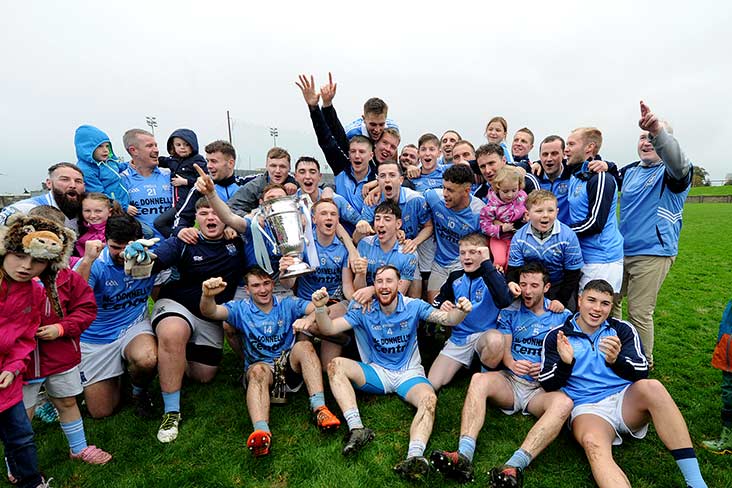 Newtown Blues celebrate
NEWTOWN BLUES 2-10
DUNDALK GAELS 0-5
Newtown Blues are celebrating a 21st Louth Senior Championship title after cruising to victory over Dundalk Gaels at the Gaelic Grounds in Sunday afternoon.
In what proved to be a very disappointing encounter, the Drogheda side's big match experience and know-how proved crucial, along with their superior fire-power, as they came out on top by 11 points.
It was a bitterly disappointing outcome for Dundalk Gaels who arrived in Drogheda with high hopes of claiming a first title since 1952. However, it wasn't to be as they failed to reach the standards that saw them dismiss Sean O'Mahonys and Nh Mairtin en route to the decider.
The Ramparts side seemed at times to be affected by the occasion and a series of basic errors meant they were unable to ask any serious questions of the favourites.
For their part, the Blues will care little about the standard of the game as they produced a clinical display to nullify the Gaels threat and goals either side of the break from Conor Moore and Ross Nally put them firmly in control.
The wet conditions made it difficult for both sides to find their rhythm and a very cagey opening left little for the crowd to get excited about.
It was the Blues who opened the scoring through Robert Carr on four minutes and although the Gaels had the greater share of possession they missed four chances to get back on terms before Kevin Carr added the second point on the quarter hour.
The Dundalk men looked nervous in front of the posts in the early stages but finally got off the mark through an Eanna McArdle free on 17 minutes.
However, the Gaels suffered a devastating blow almost immediately when Conor Moore's shot crashed off the crossbar and over the line with Fergal Donohue following up to make sure was in the net.
It was a severe setback for a Gaels team who now had to go chasing the game rather than their preferred approach of sitting back and attacking on the break. Although they did pull a point back from another McArdle free, Ross Nally had the final say of the half with his first point of the game to make it 1-3 to 0-2 at the break.
The Dundalk men needed a strong start to the second half to give themselves any real hope but it was the Blues who stretched the lead with an early Ciaran Downey point.
After 38 minutes the Blues had one hand on the cup when a Ross Nally effort was missed by goalkeeper Stephen Faulkner and went straight to the net to make it 2-4 to 0-2.
The Gaels battled to find a way back into the game and pulled back two points through Derek Crilly and Barry Watters to cut the gap to six. Nally and David Maloney then swapped scores before Sean McCann and Gerard McSorley went close to finding the net.
However, there was to be no dramatic comeback as the Blues always appeared to be in control and they sealed a comfortable win with late points from Downey (2) and Nally (2), to allow Andy McDonnell accept the Joe Ward Cup from Co Board Chairman, Des Halpenny, and begin the celebrations.
NEWTOWN BLUES - J Lowney; P Moore, F Donohoe, E Carolan; K Carr (0-1), C Reynolds, S Moonan; A McDonnell, J Kermode; C Branigan, C Judge, R Carr (0-1); C Downey (0-3), R Nally (1-5, 0-3f), C Moore (1-0). Subs: H McGinn for C Branigan, R Levins for C Judge (BC), K Lynch for J Kermode.
DUNDALK GAELS - S Faulkner; P McGinnity, J Faulkner, D McComish; O Murray, J Stewart, D Moloney (0-1); D Crilly (0-1f), S McCann; E Kenny, S Murray; B Watters (0-1); E McArdle (0-2f), G McSorley, C Sweeney. Subs: J Clarke for E McArdle, E Boyle for C Sweeney, G Fee for E Kenny.
REFEREE - D Fedigan.
Most Read Stories