Louth SHC final: Naomh Moninne end seven year wait for title
September 25, 2017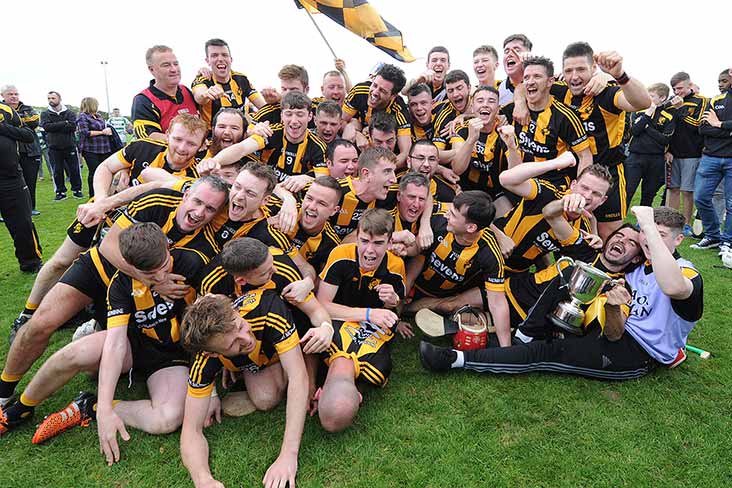 Naomh Moninne celebrate
NH MONINNE 0-16
ST FECHINS 0-14
Nh Moninne ended a seven year wait for the Louth Senior Championship title when they dethroned St Fechins in a closely contested final at The Grove on Sunday afternoon.
Late points from Diarmuid Murphy and Feidhelm Joyce secured victory in a tense climax, while Ronan Geoghegan's eight points from frees were also crucial in seeing the Dundalk men get their hands on the Paddy Kelly Cup once again.
It may not have been a match for the purists but both teams certainly gave their all over the hour, and in the end Nh Moninne were deserving winners despite the best efforts of the champions.
The Dundalk men edged ahead in the early stages and although they were unable to gain control of the game, they always had a response when St Fechins hit back to level the game. In the closing stages when it appeared that the momentum with with the Termonfeckin side they held their nerve and defended with great determination to hold out for victory.
It really was nip and tuck throughout the 60 minutes but it was Moninne who started brighest and had points on the board through John Martin and David Yore before John Crosbie had the Fechins off the mark. Andrew Mackin put the Dundalk men 0-3 to 0-1 ahead only for Paddy Lynch to level matters with two frees.
The remainder of the first half developed into an individual battle between Lynch and Man of the Match Ronan Geoghegan who both landed some fine scores. Lynch finished the half with four points but Geoghegan had five to his name at the break including an injury time effort that saw his side lead by 0-9 to 0-8.
The two free-takers were on the mark early in the second half and with Diarmuid Murphy adding one for Moninne in response to efforts from Michael Ryan and Seaghan Conneely, the Dundalk men were 0-12 to 0-11 in front at the end of the third quarter.
A sublime point from John Martin and another from Geoghegan opened up a significant three point gap with 11 minutes to play. However, nerves appeared to play a part as St Fechins rallied and struck three unanswered points to tie the game with three minutes left.
St Fechins would have fancied themselves to complete the job at that stage but they failed to take good opportunities and were made pay when Murphy and Joyce fired over to ensure that Moninne captain, Andrew McArdle, accepted the cup.
NH MONINNE: Paul Delaney; Paul Challoner, Chris Lennon, Andrew McArdle; Matthew Fee, Oisin Drumm, Diarmuid Murphy 0-2; Darren O'Hanrahan, Feidhelm Joyce 0-1; Ronan Geoghegan 0-8 (8f), John Martin 0-2, Philip Englishby; David Yore 0-1, Andrew Mackin 0-1, Tadhg Noone. Subs: Niall Cafferkey 0-1 for C Lennon, Collins Connolly for T Moore, John Carter for J Martin, Stephen Rafferty for A McArdle, Donal Connolly for D Yore.
ST FECHINS: Stephen Hackett; Barry Devlin, Darren McDonnell, Wayne Tracey; Robert Moynagh, Cathal Ryan, Oisin Byrne; Paddy Lynch 0-8 (6f 1 '45'), Ian Connor; Donal Ryan, Niall Devlin 0-2, Seaghan Connelly 0-1; David Stephenson, John Crosbie 0-1, Michael Ryan 0-2. Subs: Paul Matthews for J Crosbie, Cormac McAuley for W Tracey, Paddy McCormack for D Stephenson, Liam Ryan for R Moynagh.
Most Read Stories