Niall Carew steps down as Sligo manager
September 07, 2017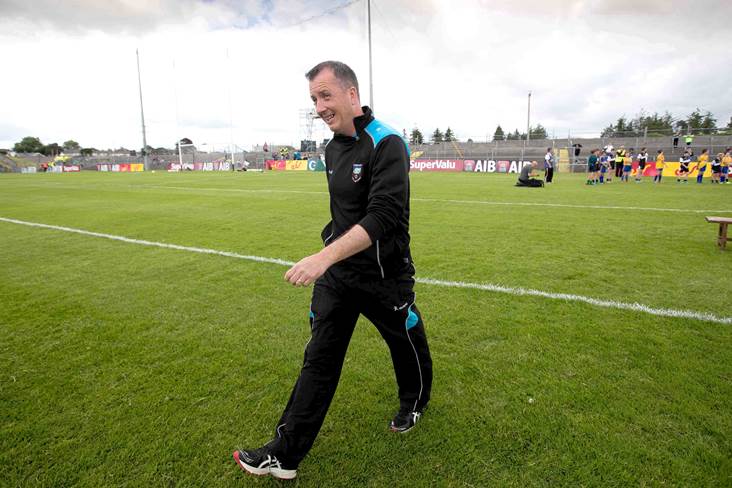 Sligo manager Niall Carew.
©INPHO/Morgan Treacy.
by Daragh Ó Conchúir
Sligo footballers are on the lookout for a new manager after Niall Carew announced his decision to step down.
Carew was given the green light to continue for a fourth season last month but has since started a new job which he says would make it almost impossible to continue to give the necessary commitment.
The Kildare native took over in 2015 and brought Sligo to a Connacht Final, after defeating Galway. While Mayo inflicted a heavy defeat, they performed well in the subsequent Qualifier against Tyrone.
Injuries hampered their bid to emerge from Division 3 of the League and but they were extremely competitive in this year's Championship, particularly against Mayo, who have since progressed to the All-Ireland Final.
They recorded their second win of the Championship - having beaten a much-touted New York in the Big Apple prior to the Mayo clash - by totting up 22 points against Antrim but were undone by a late Meath rally in Navan in the second round of the Qualifier series.
Carew has been involved in the inter-county scene for 10 seasons, having begun as a selector and coach with Kieran McGeeney in 2008 as Kildare's fortunes were revived.
He took over as Waterford manager in 2013, and set about raising the standards of preparation and commitment, but was frustrated by what he felt was lack of support from the county board for continuing that process. He left after two seasons but left a considerable impression on the players, who were heavily critical of the Déise executive in the aftermath of Carew's departure.
He finishes up on very good terms with the Sligo stakeholders however and in a statement said that he and his staff "never wanted for anything" during their three years.
"It is with regret that I announce my resignation as manager of Sligo's senior football team after three seasons" said Carew. "I have recently changed jobs and the demands would make it impossible for me to commit to Sligo in the manner I would deem necessary.
"I am extremely thankful to the county board, who gave me the green light to continue into a fourth season. I was looking forward to continuing the progress we had made but unfortunately the landscape changed in my professional life in the meantime.
"Throughout my time in Sligo, the officers of the county board and Club Sligo have been very supportive and we never wanted for anything. The players worked hard and bought into what we were trying to achieve. Management always gets mistaken and portrayed in the media as a one-man gang when the truth is that nothing is possible without selectors, coaches, backroom and support staff. The clubs were fantastic with their backing as were the fantastic Sligo supporters."
Carew went on to predict that there were good times ahead for Sligo.
"I thank all stakeholders for what they did to help move Sligo football forward in the last three years. In Scarden, the county has a tremendous facility. With players from the U21s, minors, recent schools' teams and development squads coming through, there is cause for optimism in the future. It may take a few years but I am confident Sligo will have senior success to celebrate in time.
We had some good days, including reaching the Connacht Final. This year, we were competitive in all our games including against Mayo, who are now All-Ireland finalists. With a small bit of luck, that was a game we might have won… that's how close I think Sligo are to making a real impact.
"Advances were made and I would like to think that they will continue under my successor and call on the county board, players, clubs and supporters to get behind him the same way they got behind me.
"Finally, I would like to thank my wife Michelle and three children Sadhbh, Caoimhe and Páidí, for their support and patience over the past 10 years that I have been involved with Kildare, Waterford and Sligo. Without that, none of it would have been possible."
Most Read Stories