"They think it's all over…"
August 31, 2017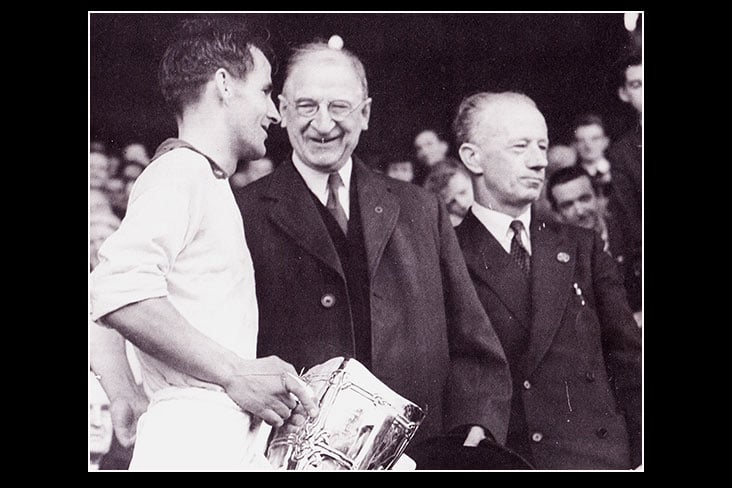 Waterford captain Frankie Walsh with President Eamon de Valera and the 1959 Liam McCarthy Cup
In 1959, the year of Waterford's last All-Ireland success, legendary commentator Kenneth Wolstenholme commentated on the final from Croke Park for BCC television.
Telefís Éireann was yet to be born - it didn't broadcast its first programme until December 31st, 1961 - so it was left to the BBC to bring the small ball game to the masses first and Wolstenholme - the man who would become immortalised in 1966 for the line "They think it's all over … it is now" at the end of England's World Cup final victory over Germany - was in Dublin to commentate on both the football and hurling finals.
Kerry beat Galway in the football and the English commentator found it "straightforward enough". The hurling brought a much greater challenge. Michael O'Hehir was present in his capacity as commentator for Radio Eireann and he assisted Wolstenholme with some insight into the game and its most popular phrases.
Highlights from the Waterford-Kilkenny drawn game were broadcast by BBC on Sportsview the following Wednesday and Wolstenholme declared that "I still think soccer is the finest game in the world but now hurling is pretty strong around second place".
After the drawn game, the GAA presented him with the hurl that legendary Na Deise midfielder Seamus Power had used to score the equalising goal. "My main lasting impression will always be of the excitement I felt at Croke Park. I've seen sporting events in many parts of Europe and America, but I have yet to see a game which keeps the excitement at such a constant fever pitch as hurling," he reflected
With 73,707 in attendance, the match on September 6th, 1959 ended in a thrilling 1-17 to 5-5 draw; Waterford won the replay by 3-12 to 1-10 on October 4th to claim their second All-Ireland SHC title. They thought it was all over, it was then.
Most Read Stories