London SFC final: Kiernan's make breakthrough
October 24, 2016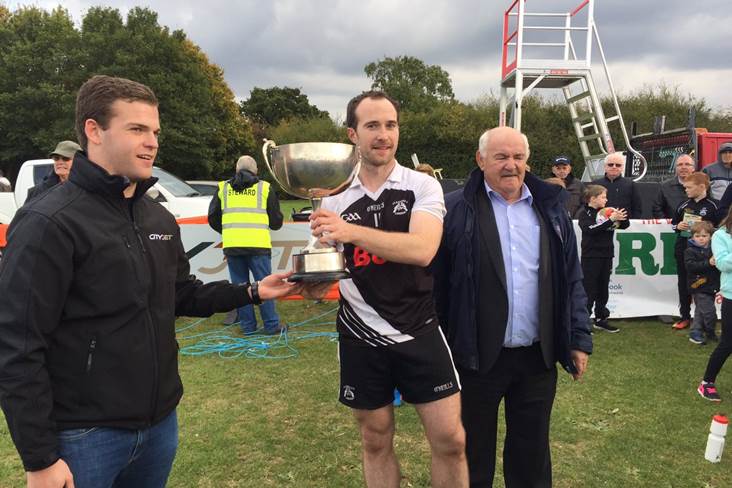 St. Kiernan's captain Adrian Moyles accepts the London SFC silverware. Pic via Official London Gaa on Facebook.
St. Kiernan's 0-12 
Tir Chonaill Gaels 0-5
St. Kiernan's were crowned London senior football champions for the first time in their history when avenging last year's defeat to Tir Chonaill Gaels in Greenford yesterday.
Chris Byrne's men never looked back after two Michael Callery points and another from Adrian Moyles handed them the early initiative. John McGrath finally opened the holders' account from a free in the 18th minute, but St. Kiernan's hit back with scores from Michael O'Donoghue, James Moran and Liam O'Donoghue to lead by 0-6 to 0-2 at the interval.
An Adrian Hanlon point raised the Gaels' hopes of staging a second half comeback, but the result was never in doubt as Kiernan's celebrated a first senior success in their 31-year history. They will face the Ulster champions in the All-Ireland club SFC quarter-final later in the year.
St. Kiernan's - B Mulrooney; K Curran, I McGough, D Quinn; P Begley, S Curran, M Hulholland (0-1); J Moran (0-1), C Og Greene; T Waters (0-1), A Moyles (0-3), L O'Donoghue (0-1); M Callery (0-2), P Finn, M O'Donoghue (0-3). Subs: T Moriarty for L O'Donoghue, C Carville for M Callery, D Ryan for P Finn, C Healy for K Curran (BC), D McHugh for M O'Donoghue.
Tir Chonaill Gaels - E Higgins; B McAtarnsey, P Butler, M McWilliams; S Johnston (0-1), G Magee, M McCoy; R Breen, A McDermott; S Murney, A Hanlon (0-2), A Askin; J McGrath (0-1f), L Gavaghan, K Butler. Subs: B Collins for K Butler, M Gottsche for S Murney, E Mageean for J McGrath, D Ward (0-1) for A McDermott, K Clarke for S Johnston.
Referee - C Conneely.
Most Read Stories