Kerry SHC final: Boyle forces replay
September 11, 2016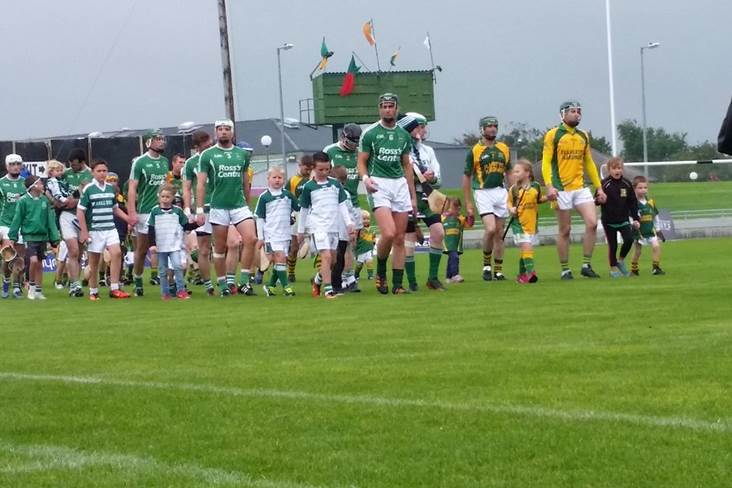 The Ballyduff and Kilmoyley players parade.
Padraig Boyle's last-gasp point earned Ballyduff a 2-14 to 1-17 draw with Kilmoyley in a thrilling Kerry SHC final at Austin Stack Park.
Boyle scored an early goal as Ballyduff eased into a 1-3 to 0-0 lead before Kilmoyley fought back to leave it 1-7 apiece at half-time.
With veteran Shane Brick making his first start in nearly four years following his return from Cork club Tracton, Kilmoyley surged into a four-point lead in the second half before Ballyduff came back to level again. 
Sean Maunsell looked to have won it for Kilmoyley, only for Boyle to equalise with the last puck of the game.
The replay will take place on Saturday week, September 24 in Austin Stack Park.
Ballyduff - PJ O'Gorman; T Slattery, P Costello, D O'Grady; E Ross, P O'Grady, A O'Carroll; D O'Carroll, M Boyle (0-3); P Boyle (1-6, 0-4f), L Boyle (1-0), B O'Grady (0-1); J Goulding (0-4), G O'Brien, J Hussey. Subs: E O'Connor for E Ross, B O'Sullivan for J Hussey, D Goulding for G O'Brien.
Kilmoyley - A McCabe; S Murnane, C Savage, S Nolan; S Dowling, T Murnane, D Fitzelle; J Godley (1-0), P O'Connor (0-2); J Brick, S Maunsell (0-1), D Collins (0-11, 10f); R Collins, A Royle (0-1), S Brick (0-2). Sub: J McElligott for S Murnane.
Referee - D Fox.
Most Read Stories