FL3 final: Cleary wins it for Clare
April 23, 2016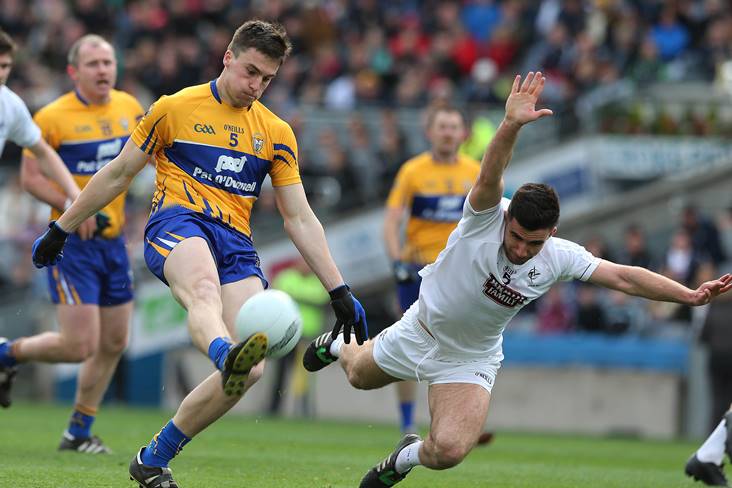 Kildare's Ryan Houlihan and Jamie Malone of Clare
©INPHO
Clare corner forward Eoin Cleary held his nerve to kick the winning point in the 75th minute to earn a 2-17 to 1-19 win over Kildare.
An outstanding game of football saw end to end action as 14-man Clare came out on top against 13-man Kildare.
Graham Kelly saw red for the banner men, while Kevin Feely and Ryan Houlihan were dismissed on second yellows for the Lilywhites.
It was by no means a dirty game and it was played in a sporting manner which saw Clare battle back from a poor start to lead by 1-11 to 1-10 at half time.
They looked down and out when Paul Cribbin kicked two in a row to put them three points ahead with two minutes remaining, but they battled back and Eoin Cleary proved the hero of the hour with a well taken free five minutes into injury time.
Just like the first game, the opening score came within the first minute as Neil Flynn pointed a free, which was immediately cancelled out by the first of David Tubridy's five points.
Clare went in front thanks to Jamie Malone's point, but that was as good as it got for the next ten minutes as Kildare took control.
Flynn and Moolick pointed from play before the aforementioned Flynn broke in along the end line, cut inside and fired the ball to the roof of the net.
Flynn and Adam Tyrrell both pointed frees, with Flynn's effort from all of 50 metres and off the ground to leave the score 1-05 to 0-02 after ten minutes.
Clare looked in trouble even at this early stage, but they outscored Kildare by 0-04 to 0-01 over the next few minutes as a fine solo effort by Pearse Lillis was followed by two Tubridy frees and an Eoghan O'Flaherty fisted point, with just a Tyrrell free being the only reply.
The impressive Keelan Sexton had earned a couple of frees before kicking a fine score himself to make it 1-06 to 0-06 after 23 minutes.
Two points by Clare's Cleary, one from a free and one from play left the minimum between the sides and then Malone surged forward again and looked to have goaled for Clare but his shot came back off the bottom of the post. However, the ref pulled the play back and gave the Banner a free which Tubridy converted.
Kildare's response was swift with a fine Alan Smith effort. Tubridy then kicked his fifth free of the day, before Flynn responded from a placed ball at the other end.
Then in the 35th minute, Tubridy got the all-important goal to send the Clare supporters into raptures as the short whistle was blown.
The second half started with a little controversy as Cleary's free looked to have been given but after a delay hawkeye was called in and ruled it out.
A free by Tyrrell levelled matters in the 39th minute, before Malone got his second point of the match.
Tyrrell and Cleary took over the scoring exploits for their respective teams as between them they scored the next five points, three for Tyrrell and two for the Clare forward.
By the end of this, it was 1-13 each before a Flynn free broke their scoring sequence in the 48th minute. Fergal Conway surged forward and could have had a goal but he blasted over.
The first sending off saw Feely leave the field in the 57th minute, but they did manage to score next as O'Flaherty was on target.
Clare sub Shane McGrath made it 1-16 to 1-15 as Kildare still lead, but two excellent points by Paul Cribbin in the 66th and 68th minute put the Lilywhites in the driving seat.
The Munster side were not to be outdone and man of the match Gary Brennan won a great ball on the edge of the square and laid off to centre back Dean Ryan who palmed the ball into an empty net.
With seven minutes of injury time to be played, Sub Enda Coughlan was quickest to react when the ball came back off the post and he fisted over the bar in the 72nd minute.
Graham Kelly was then dismissed as Flynn drew the sides level again and then Ryan Houlihan got his second yellow which set up Cleary's heroics.
Clare - J Hayes; S Malone, K Harnett, M McMahon; S Collins, D Ryan (1-0), C O'Dea; G Brennan, C O'Connor; P Lillis (0-2), E Cleary (1-6, 0-5f), J Malone (0-2); D Tubridy (0-5f), K Sexton, P Burke. Subs: P Collins (0-1) for S Malone, S McGrath for P Burke, E Coughlan (0-1) for C O'Dea, G Kelly for K Sexton, J O'Dea for M McMahon (BC).
Kildare - M Donnellan; O Lyons, C Fitzpatrick, D Hyland; R Houlihan, F Conway (0-1), J Byrne; K Feely, T Moolick (0-1); A Tyrrell (0-6, 4f), E O'Flaherty (0-2), P Cribbin (0-2); E Callaghan, A Smith (0-1), N Flynn (1-6, 0-5f). Subs: C McNally for E Callaghan, K Murnaghan for A Tyrrell, E O'Connor for A Smith, E Powderly for C Fitzpatrick, Daryl Flynn for T Moolick, E Bolton for F Conway.
Referee - N Mooney.
Most Read Stories