Kidney Transplant ex-Roscommon star marries his Pharmacy Technician
April 07, 2016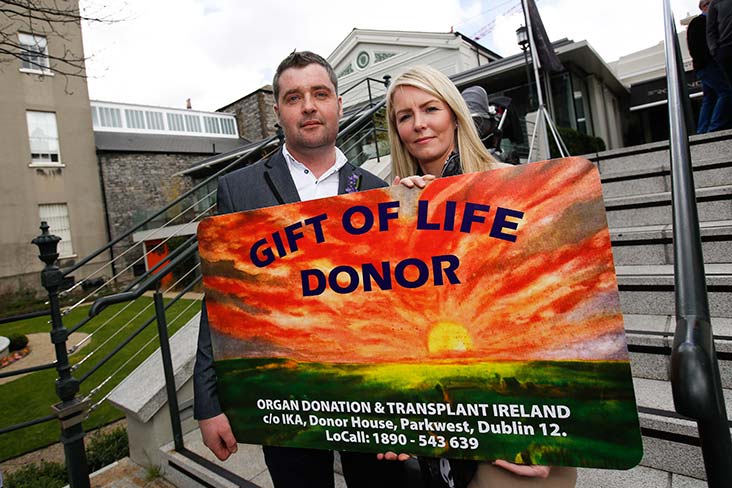 Phelim O'Neill and his wife Tracy at the Mansion House for the launch of Organ Donor Awareness Week.
When former Roscommon goalkeeper Phelim O'Neill underwent his kidney transplant on his 22nd birthday 20 years ago, he could not have known that his gift of life would bring him and his future wife together.
Phelim shared his succesful transplant story during Organ Donor Awareness Week which continues until 9th April.
"When making my regular visits to Cooney's Pharmacy in Athlone to collect my transplant anti-rejection drugs I struck up a relationship with pharmacy technician Tracy McManus," said Phelim.
"She became my wife two years ago.  January 2016 marked a double celebration for me - I celebrated my 42nd birthday as well as my life changing kidney transplant which I received on my 22nd birthday twenty years ago.
"I was so delighted on this milestone thinking back on all that I got to do in those twenty years thanks to a very generous donor. Back in October 2015, I was part of the Clann Na nGael senior football panel that won the Roscommon senior county championship and in February this year, I picked up my medal at our annual awards night. It will be a very proud night for myself, my wife Tracy and my family.  
"On the night I spoke about the importance of organ donation.  My kidney transplant surgeon was David Hickey, who like our team manager Paul Curran, is also a former Dublin footballer and All Star. This is just a small part of my story over the last amazing 20 years."
Organ Donor Awareness Week 2016 (2-9 April) is organised by the Irish Kidney Association.
The campaign will feature RTÉ News Anchor and Courts correspondent Vivienne Traynor in radio advertising as well as on posters encouraging the public to support organ donation. Vivienne witnessed first-hand the whole process of organ donation and transplantation from a deceased donor for her nephew Martin in November 2014. She explained that this was a very different experience from five years previously when she was a living kidney donor to him.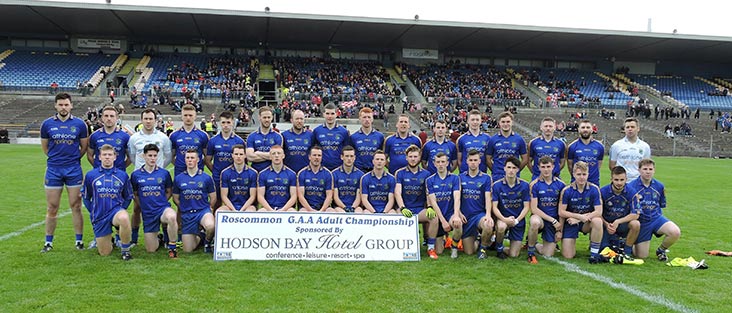 She said: "I was touched that a family in the midst of all their grief took the time to consider someone else. The kindness of strangers meant so much to us."
The focus of Organ Donor Awareness Week is to raise awareness about the ongoing and ever increasing demand for organ transplantation which relies on the public for organ donation. Its key message is that families need to talk and keep the reminders of their willingness to donate visible by carrying the organ donor card, downloading the Smartphone App and permitting Code 115 to be included on their driver's license.
Organ Donor Awareness Week also serves as a fundraising exercise for the Irish Kidney Association as 74% of its funds are generated from the public. Throughout the Week (2nd - 9th April, 2016), the Association's volunteers will be out on the streets, and in shopping centres throughout the country, selling 'forget-me-not-flower' emblems, brooches, pens and shopping trolley discs.
All proceeds will go towards the Irish Kidney Association's aid for patients on dialysis and those patients fortunate enough to have received a kidney transplant. The Irish Kidney Association's charitable activities include the provision of a 13 double bedroom free accommodation facility for patients and their families in the grounds of Beaumont Hospital and holiday centres located in Tramore and Kerry, together with patient advocacy, advice, financial aid and rehabilitative, health promotion through sport and the provision of kidney patient information and education. The IKA has introduced another fundraising technique.
You can text "kidney" to 50300 and €2 will be donated from your mobile phone account to the IKA.
The Irish Kidney Association is the national organisation charged with the promotion and distribution of the organ donor card in Ireland, on behalf of Organ Donation Transplant Ireland.
Free information fact files, which accompany organ donor cards, are obtainable from the Irish Kidney Association and are available nationwide from pharmacies, GP surgeries and Citizen Information Offices etc.
Most Read Stories