Gavin highlights "open culture" in Dublin camp
September 25, 2015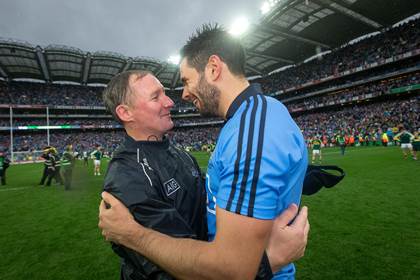 Dublin manager Jim Gavin celebrates with Cian O'Sullivan.
©INPHO/Ryan Byrne.
Jim Gavin has cited his military background as having a major influence on his style of management.
Gavin delivered his second Sam Maguire to the capital in three years last Sunday and speaking at the inaugural Bord Gais Energy Legendary Leadership conference at the Aviva Stadium yesterday, the former Air Corps pilot revealed some of the secrets to getting the best out of his players.
"We have a very open culture with Dublin. If the players are unhappy they can ask us to leave. Simple as that," he said.
"It's a two-way process. We're there to facilitate. That culture's from the Defence Forces - service not self. In the military there's people above you and below but you're there to serve.
"You have to have a vision and ours is simple, to be the best we can be. Simple as that. If you're consistent with that, it can be that compact, but once the culture is created they can express themselves.
"We give them a framework in a tactical sense, we don't want fifteen robots playing for Dublin. We have a structure, sometimes we get it wrong but once they express themselves that's the key.
The Dublin manager added: "Emotional intelligence is very important, the ability to read a dressing-room is key.
"I wouldn't be one for roaring and shouting, but you need to raise the voice the odd time to snap them back into the moment. You pick that up over time, you get a sense of the energy, the atmosphere when it's crackling - it was like that Sunday, but also very focused.
"At half-time we were four up but there was no talk of the outcome, just a focus on the process.
"One of the first things I learned in military college was what Napoleon said, that leaders give people hope. I've been moulded by the military and am proud to say so. All of that sense of representing your community . . . I'm retired now from the Defence Forces, but the service, the discipline, the humlity, honour, respect - that's what I've tried to imbue in the Dublin set-up, Respect for the opposition, the match officials and to be the best we can be.
"As a coach I'd see myself as a magpie, going to various people, getting ideas from people, contextualising that through my own life circumstances.
"The challenge is to put the key points together. If you can pick one or two key bits, that's the challenge. Continuous learning is key. I've a roomful of books at home and I don't read them all but I flick through them, adding layers on layers. The game plan for Dublin four days ago won't be good enough next year. I'm well aware of that."
Most Read Stories