What they said ... the hurling weekend in quotes
July 06, 2015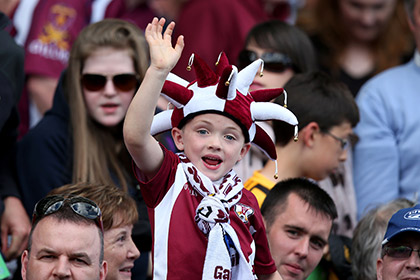 Galway are still in it. INPHO
"I'm very happy we won it. We had a great challenge - both teams had - and our attitude was very good at all times."
Brian Cody won his 39th piece of silverware as Kilkenny boss at headquarters yesterday.
"Kilkenny are a class act. Everyone knows that. They are All-Ireland champions but we are very, very close to them. Disappointed we didn't finish out a few chances but that happens."
Missed opportunities came back to haunt Anthony Cunningham and Galway at the final whistle.
"We were out of the Championship this time last year. We have a game under our belt and we're kicking on. I'm just happy that in the middle of July, we're still in it. We're looking forward to the battle next weekend. This is all we talk about."
It's a case of so far, so good for Davy Fitzgerald and the Banner hurlers.
"Of course (I want to stay), I'm an Offaly man. But at the end of the day that's not for me to decide."
Is it the end of the road for Brian Whelahan as Offaly hurling manager?
"Look, we win together and we lose together. It's been four years there of a lot of hard work. I got huge commitment from the players to be fair. Where it goes from here, I don't know."
There are also question marks hanging over Liam Dunne's future as Wexford manager.
"Look we know where we're going. The teams we're going to be meeting now, we'll have to be better than that. We know. We're not fools. We know where we're at, we know we've an awful lot of work to do."
Jimmy Barry-Murphy wasn't getting carried away with Cork's qualifier victory over the Model County.
"The finishing scoreline doesn't do full justice to Westmeath. It was a tough day, they made life very difficult for us."
Limerick's performance against Westmeath left a lot ot be desired according to TJ Ryan.
"We've come a long way today, we've played some really good hurling against a good side. But it also showed there's a lot of work still to be done."
Lake County hurling has made progress under Michael Ryan.
"It was nice to get that sort of start. Especially against the wind, it gave us a bit of a cushion that we were able to stay in command. But we had a lot of wides. We need to work on our shooting."
Dublin got the job done against Laois but Ger Cunningham says they have work to do.
"What is the objective here? Is the objective for the next 40 years to have an All-Ireland championship where only three counties can win it? Because we've had that for the last 40 years. If that's what they want, let them stand up and be honest and say it. And we'll all go away and do something else."
Seamus Plunkett is not happy with the GAA's efforts in promoting hurling in weaker counties.
Most Read Stories