O'Shea deflects praise onto players
June 22, 2015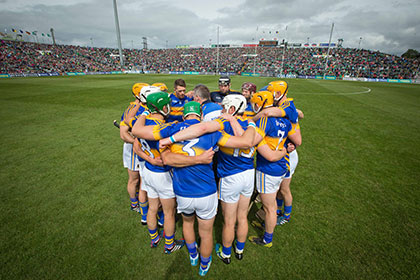 Last words from the manager before the clash with Limerick in the Munster SHC semi final. INPHO
Eamon O'Shea insisted Tipperary's trouncing of Limerick was all down to the players.
The manager did his best to deflect the praise in their direction after ending a three-year wait for a victory in the Munster SHC.
"It doesn't mean anything for me except we won a game," he is quoted in the Irish Examiner.
"I just manage these boys. Why would it mean something for me? I'm proud of the players. The players are really good and working with these boys is such a joy. It gives me energy and that's why I really want to see them do well. But for me? I'm not in the picture here.
"The players are the real heroes and I just sit and watch them. And some days we don't, we're not on song and some days you have to say… but they have an awful lot to do yet to get anywhere near where they want to be.
"But it's never about the manager, ever."
O'Shea admitted he was surprised by Tipp's huge 16-point winning margin.
"It probably was more emphatic than we thought. I thought there was still a lot of hurling left in the game. I thought we held our nerve when they came back at us and showed a lot of resilience. The experience gained over the last couple of years has been really good for us, you know?
"In 2013, we didn't get very far but we played the best game of the championship down in Kilkenny and you learn a lot down there. You get a lot of information.
"Last year, we failed to win the All-Ireland but we got a lot of experience. We're not an inexperienced team but at the same time it's very pleasing for me to see young players like Ronan Maher, Niall O'Meara and Jason Forde, and 'Bubbles' is still young, and some players we got on the pitch."
The Premier County boss clearly wasn't getting carried away with the win, which paves the way for a Munster SHC final showdown with Waterford in three weeks' time.
"I caution, you know, the summer is hardly started. It's hardly started. That's it, wait and see," he added.
Most Read Stories