The late Fergus O'Rourke
April 21, 2015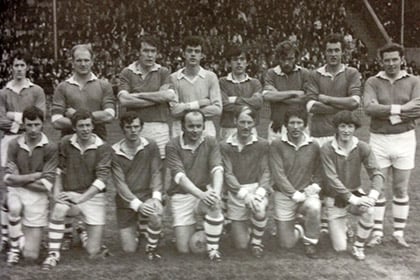 The late Fergus O'Rourke and his brothers backboned the fine Skryne team of the late 1960's, early 70's. Before the Meath (1971) final against Kilbride in Pairc Tailteann. Front l-r: Mickey Lynch, Fintan Murphy, Jimmy Finnerty, Paddy Cromwell, Davy Carty, Paddy Mulvany, Dermot Carty. Back l-r: Ken Mooney, Dinny Donnelly,
Fergus O'Rourke
, Mel O'Rourke, Phelim O'Rourke, Ciaran O'Rourke, Padraig O'Rourke, Sean Smyth,
The death has occured of former, Aughavas, Skryne, Leitrim and Connacht Railway Cup footballer Fergus O'Rourke.
Fergus was the eldest of the famous O'Rourke footballing brothers who hailed from the south Leitrim Gaelic stronghold of Aughavas.
Prior to the family moving to farm in Meath during the mid 1960s, Fergus had already established himself as an outstanding midfielder with his native county. Big and strong, in the typical O'Rourke mould, Fergus could field with and go head to head against any of the top players of his era.
Fergus lined out in a Connacht senior final and won Cork senior football championships with UCC in 1963 and '64. '63 was a very eventful season for the 20-year-old O'Rourke as he also gained a Leitrim SFC medal with his beloved Aughavas, a feat he repeated in 1966.
In the late sixties the family threw their full weight behind the Skryne club and during one championship match, with Fergus in his usual midfield spot, no less than six O'Rourkes wore the blue of the Tara men.
Future All Star Colm was still an early teenager at this stage. The elder O'Rourke played in the Meath senior football finals of 1969 and 1971. Unfortunately success eluded Skyrne on both occasions.
In later years and on coming to live in the nearby parish of Dunshaughlin Fergus O'Rourke, a very successful businessman in the motor industry, became involved with the local club and his sons donned the black and amber of Dunshaughlin with pride.
Ar dheis De go raibh a anam.
Funeral Arrangements
The death has occurred of Fergus O'Rourke, Grange End, Dunshaughlin, Meath / Aughavas, Leitrim.
Fergus, died peacefully at Connolly Hospital, Blanchardstown. Loving husband of Aidie and dear father of Tiernan, Brian, Breffni and Fergus Jnr. Sadly missed by his family, his adored grandchildren, daughters-in-law Rebecca and Louise, son-in-law David, brothers, sisters, brothers-in-law, sisters-in-law, nieces, nephews, relatives and his many dear friends.
Rest In Peace.
Reposing at his home from 2pm this Wednesday afternoon. Removal on Thursday to Ss Patrick & Seachnall Church, Dunshaughlin, arriving for Funeral Mass at 12 noon. Burial afterwards in adjoining cemetery. Family flowers only. Donations, if desired, to St Francis Hospice. House Private on Thursday morning.
An interview with Fergus carried out by hoganstand just after Leitrim had won their first Connacht title in over 60 years back in 1994.
Ten Great Years in the Green and Gold of Leitrim
They didn't believe the Russians when they said they were going to send Uri Gargin shooting up into space at the beginning of the sixties ..they didn't believe Roger Bannister when he claimed that the four minute mile was achievable .. John F. Kennedy was slated for being too naïve to suggest that ultimately people power would bring down the infamous Berlin Wall separating Germany, west and east ... and most definitely they didn't believe Eurovision winner Charlie McGettigan when he announced to all and sundry that he would be welcoming home the J.J. Nestor Cup to Drumshanbo later in the year. They didn't believe, but they do now!
So much has happed Leitrim in a positive sense over the last few months that nothing it seems can quench the swelling sense of pride and ambition in the tiny Connacht county. McGettigan and the 'Rock and Roll Kid's, the opening of the Berlturbet-Ballinamore Canal and ... the winning of the Connacht Championship after sixty seven barren years. What was mooted as a desert, a rock-ridden County with little or nothing going for itself is suddenly flavour of the month with commentators from all spheres nationwide. Everyone wants to get inside track on lovely Leitrim.
The aforementioned successes have put Leitrim firmly on the map. It's no longer the no-hope county and in this respect there's very few around more delighted than son of Aughavas Fergus O'Rourke. A no mean footballer in his day who can now fully appreciate both the current round of Championship success and in turn is able to pay due tribute to the men who ploughed oh so lonely furrows when times weren't so healthy in the pre-P.J. Carroll/John O'Mahony eras.
Big Fergus O'Rourke now lives in Dunshaughlin and was formerly a tower of strength with the Skryne club in County Meath. He has a young fella who's a promising player there but daddy's heart is entrenched in the Leitrim way. The Leitrim way, it would appear, is still his way despite the fact that he has led a bohemian lifestyle socially and a journeyman existence as a sportsman par excellence. O'Rourke, brother of Meath legend Colm, is a Leitrim man through and through and certainly can't be accused of jumping on anyone's bandwagon
Fergus O'Rourke and Leitrim football go a long way. Thirty odd years in fact. In 1963 he the only one (he's the eldest of the clan) of the O'Rourke's to make it on to the local Aughavas club side. The leader of the burgeoning O'Rourke pack which also included Padraig, Phelim, Ciaran, Mel, Aidan, Kevin and, of course, the much celebrated Colm, Fergus O'Rourke was born into a football mad household of fourteen, all of whom played out their lives on the farm to the accompaniment of footballs ricocheting off gable walls on the family farm.
Fergus's father Felix was an Aughavas true blue. So was uncle Malachy and under the further supervision of seasoned club campaigner like Noel and Terry Blessing, Tom Mollohan, the McLoughlins, Packie McCabe and Leo Heslin, the fledgling midfielder fairly quickly began to make a name for himself on the Senior club arena. His hunger for the game was immense. Driven skywards by the lack of success of the Aughavas club during his Underage days when the town teams such as Ballinamore Sean O'Heslins and Carrick-on-Shannon employed their greater resources to deny their country cousins among whom the greyhound-like figure of Fergus O'Rourke was prominent.
Light and slightly gangly as a teenager, O'Rourke soon developed shoulders the width of a gable wall, he had years before used as goalposts. He grew stronger and reached towards the stars for good measure until at his peak he weighted in at an impressive fourteen and a half stone and stood six feet four inches tall. O'Rourke's fetching ability was well known. His ability to look after himself would later be appreciated by similar framed lionhearted warriors like big Jack Quinn in the Meath club scene.
By his own admission, Fergus O'Rourke was a late developer as footballers go. He was, nevertheless, an above average county Minor and was never anything less than a workmanlike player best suited to a central position on the field. Very mobile for a big man, his first major disappointment in the game occurred in 1963 when, as his county's midfielder, he and his peers suffered the misfortune of losing the Connacht Under 21 final to Mayo after a replay.
Significantly, the razor-keen O'Rourke was already an established Senior county player by the time of his aforementioned provincial final disappointment, making his debut for Leitrim in 1962 in a game, ironically enough against Mayo in Ballina. For some ten years he would go on to remain a fixture on the county team, enjoying every moment, he admits. In time he was obliged to switch his club allegiance, but Fergus O'Rourke was never a man for switching counties. Leitrim to the backbone. And proud of it too.
Fergus was in his early twenties when the O'Rourke family upped and left the unyielding Aughavas terrain for the more lush and bountiful Skryne landscape in County Meath. Padraig, his brother, was the first of the clan to appear in the Skryne jersey as Fergus, the eldest, was for a period down south chasing an academic qualification. At University College Cork, he won two Senior Cork Championship medals in the company of such other notables as fellow countyman Mick McGowan, plus Kerry pair Mick Fleming and Dave Geaney.
Married to Cork lady Aidie and doubtless a role model for sons Tiernan and Brian, Fergus made the move to the Skryne club and duly picked up a Feis Cup medal for his labours. A Feis Cup medal only though. Skryne weren't to come good in Fergus' time. O'Rourke just missed out on the Skryne Championship winning side of 1965 and it wasn't until 1992 that the Skryne men powered by a young fella called Trevor Giles and a young at heart Colm O'Rourke claimed Meath's football Holy Grail and for good measure repeated the feat last year too. Fergus remembers the transition for playing club football in Leitrim to togging out with Skryne. He remembers too the adaptation he had to make also.
"Club football in Meath was that much stronger. There were more teams of a higher standard. It took a bit of getting used to but having said that my biggest problem was the fact that I was based in Cork and the travelling that entailed. I had to train on my own too which was hard work and to be honest with you, finding footballers to train with in the part of Cork I was, was difficult too", Fergus quipped.
In reviewing Leitrim's historic triumph this year over Mayo in the Connacht final, Fergus, a Dealer Development Manager with Renault Distributors, Kylemore Road, Dublin, doesn't go with the flow that suggests that it was a bad decider, a final which did nothing to enhance the image of Connacht football. "The football played wasn't great but it was good overall. As far as Leitrim are concerned, I thought that once the team settled after the first fifteen minutes they were well on top until after about twenty minutes had gone in the second half. They played all the good football that was played in that space of time and really Mayo shouldn't have been allowed back in the game,"
Looking ahead to Leitrim's semi-final duel with Dublin, Fergus reckons that the county can only have benefited from their glorious Connacht final triumph. "Having got through Connacht, the whole team will be much more confident. I'm confident myself that they'll give a good account of themselves. The team has an absolutely excellent full back, a great centre half back, a good midfield and several forwards capable of taking their scores."
It'll be an even more improved Leitrim then, that will be running out on to the hallowed turf of Croke Park, according to the Aughavas, UCC, Skryne and Leitrim old boy, but what about the chances of John O'Mahony's bright young sparks freezing on their big day. Not a chance, Fergus maintains. "I can't see the team taking stage fright. Most of the players are living in Dublin. They are used to the city and the fast moving pace of life and they're away from all the hype back home."
Full steam ahead then for the seven foot tall Leitrim tribe, those of the home grown variety. The adoptees and the naturalised. Those resident in Dunshaughlin too. Gaels like Fergus O'Rourke deserve to welcome home to their native county the biggest prize Gaelic games has to offer.
Written by the Hogan Stand Magazine
19th August 1994
Most Read Stories