Eoin Kelly retires
December 01, 2014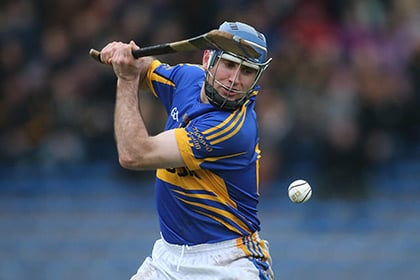 Tipperary's Eoin Kelly. INPHO
Tipperary All-Ireland winning captain Eoin Kelly has retired.
The Mullinahone clubman, who made his championship debut in 2000 against Galway, led the Premier County to All-Ireland glory in 2010, ending the Kilkenny 'drive for five'. Eoin had already won an All-Ireland medal in 2001.
Kelly has two National Hurling League medals, five Munster Senior Hurling medals and those two All-Ireland Senior Hurling souvenirs to his credit. 
The news of his retirement came on the Six One News earlier this evening.
Eoin's career as described on the Tipperary GAA Website.
Eoin who was born on January 6, 1982, plays for the Mullinahone club. Eoin made his Senior championship debut vs. Galway in the 2000 All-Ireland Quarter-Final as a forward substitute - he was also sub-goalie on that occasion if required. Eoin won an All-Ireland Colleges medal with St. Kieran's of Kilkenny in 2000 and has 2 Munster Minor Hurling medals - 1997 and 1999 and 2 Munster Under 21 medals in 1999 and 2003 (as captain). Eoin has won 2 National Hurling League medals, 5 Munster Senior Hurling medals (2008 and 2011 as captain) and 2 All-Ireland Senior Hurling medals (2001 and 2010 as captain). Eoin has played in goal for the Tipp minors and Mullinahone is the past but is better known as an excellent forward, one of the best in the modern game. Eoin is a brother of former All-Star Paul Kelly.
Eoin won a Railway Cup medal with Munster in 2001 and captained Munster in the 2006 semi-final defeat to Connacht, scoring 1-6 in the process. Eoin won an All-Star award at corner-forward and also won the Eircell Vodafone Young Hurler of the Year. He repeated both of these feats in 2002 and also won All-Stars in 2004, 2005 and 2006 to become only the second player ever to win 5 All-Star awards at the age of 24 (Pat Hartigan of Limerick was the other). Tommy Walsh (Kilkenny) subsequently equalled this achievement. Eoin won his sixth All-Star award in 2010 at left corner-forward.
Eoin is Tipperary's all time leading scorer in Senior Hurling Championship history and finished as top scorer in the 2010 All-Ireland Senior Hurling Championship. Eoin won a County Senior Hurling medal with his club Mullinahone in 2002, scoring 2-7 in the replay and winning the man of the match award. Eoin has won 10 South Senior Hurling titles with Mullinahone in 1997, 1999, 2002, 2003, 2004, 2006, 2009, 2011, 2012 and 2014. Eoin has also won 3 County Intermediate Football medals.
Kelly later studied civil engineering at Limerick Institute of Technology and graduated in 2006. He won a Fitzgibbon Cup medal with the college in 2005 as team captain. Eoin finished a credible third behind team mate Brendan Cummins in the 2006 All-Ireland Poc Fada Final in the Cooley Mountains. Eoin represented the Munster hurlers in the Inter-Provincial competition in 2001, 2003, 2004, 2012 and 2013 - winning medals in 2001 and 2013. Eoin is a first cousin of the Moran's from the Limerick Senior hurling team, i.e. Ollie, James and Niall.
Championship debut - 2000 vs. Galway
Number of Appearances - 63
Scored - 21-368
Most Read Stories