Hurling top scorers: Callanan takes the crown
September 29, 2014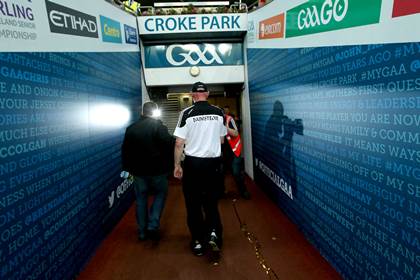 Kilkenny Manager Brian Cody makes his way down the tunnel after the replayed All-Ireland SHC final ©INPHO/Ryan Byrne
There may have been All-Ireland final disappointment but Tipperary's Seamus Callanan has finished the championship as the top scoring hurler.
Antrim's Paul Shiels led the way for all of the year but has been overtaken at the death. Callanan finished with 9-50 to his name, ten clear of Shiels after he grabbed 2-5 in the replay loss to Kilkenny.
With 9-16 Callanan also finished as the leading scorer from play, and unsurprisingly is also the leading goalscorer.
Wexford's Conor McDonald has five majors, with PJ O'Connell (Antrim), Shane Dowling (Limerick), Derek McNicholas (Westmeath), Richie Power (Kilkenny) and TJ Reid (Kilkenny) on four each.
The highest individual scoring feat in the championship so far was Pat Horgan's 2-11 against Clare and Callanan's 3-8 v Galway.
The highest average score belongs to Limerick's Shane Dowling with 12.0 points per game, which is better than Callanan's 11.0.

Overall - championship hurling top scorer
Seamus Callanan, Tipperary 9-50 (77) 11.0avg
Paul Shiels, Antrim 1-64 (67) 9.57avg
TJ Reid, Kilkenny 4-53 (65) 9.28avg
Pat Horgan, Cork 2-43 (49) 9.8avg
Shane Dowling, Limerick 4-36 (48) 12.0avg
Ruairi Convery, Derry 2-34 (40) 10.0avg
Paul Morris, Wexford 1-37 (40) 6.66avg
Stephen Maher , Laois 1-34 (37) 7.2avg
Conor Cooney, Galway 2-30 (36) 9.0avg
From play - championship hurling top scorer
Seamus Callanan, Tipperary 9-16 (43) 6.14avg
Colin Fennelly, Kilkenny 2-20 (26) 3.71avg
J O'Dwyer, Tipperary 2-19 (25) 3.57avg
Conor McDonald, Wexford 5-10 (25) 4.16avg
PJ O'Connell, Antrim 4-12 (24)
TJ Reid, Kilkenny 4-10 (22) 3.66avg
Richie Hogan, Kilkenny 1-18 (21) 3.0avg
Paul Shiels, Antrim 1-17 (20) 2.85avg
Patrick Maher Tipperary 3-9 (18) 2.57avg
Paul Morris, Wexford 1-14 (17) 2.83avg
Most Read Stories