Kerry SHC final: Paul Galvin attacked by hurley-wielding spectator
September 28, 2014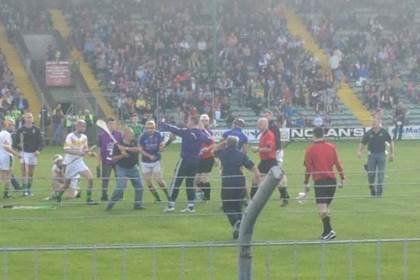 A man ran onto the pitch and tried to attack a player with a hurl during the Kerry SHC final at Austin Stack Park.
Pic via Alan Malone @AlMal90.
Former Kerry footballer Paul Galvin is back in the headlines after he was attacked by a supporter wielding a hurl during today's Kerry SHC final.
The shocking incident happened after a melee involving players from Galvin's club Lixnaw and Kilmoyley broke out at the start of the second half. According to reports, Galvin had just been yellow-carded by Cork referee John Sexton when the supporter ran onto the field towards the former Footballer of the Year swinging a hurl.
It's believed the pitch invader made contact with Galvin, although he did not require medical treatment and went on to play the full game.
Following the flashpoint, the fan was taken from the pitch by stewards and escorted from Austin Stack Park. The incident completely overshadowed the final which ended in a draw, 0-11 apiece. Lixnaw finished with 14 players after full forward Mikey Conway received a second yellow card.
Kilmoyley - A McCabe (0-1 pen); S Murnane, S Dowling, J P O'Mahony; S Nolan, D Fitzell, T Murnane (0-1); P Connor, F McCarthy; D Collins (0-6, 3f), A Royle (0-2), R Collins; S Maunsell (0-1), C Savage, S Godley. Subs: M O'Regan for S Godley, V Savage for J P Mahony, I Brick for P O'Connor, J Brick for R Collins, M Murnane for F McCarthy.
Lixnaw - D Silles; D Shanahan, T McKenna, P Corridan; J Silles, M Corridan, S Power (0-1); J Griffin, B Brosnan (0-1f); J Buckley, R Heffernan (0-7, 5f), P Galvin (0-2); C Fitzmaurice, M Conway, J Flaherty. Subs: J McKenna for C Fitzmaurice, M Quilter for J Silles, K Roche for J Buckley.
Referee - J Sexton.
Most Read Stories