Student Jim learnt valuable lessons in Tralee
September 15, 2014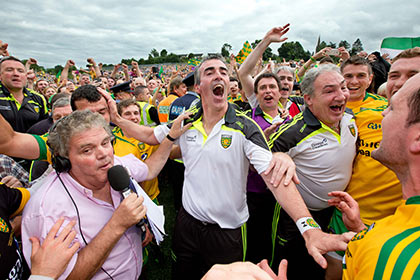 Donegal manager Jim McGuinness celebrates with players. INPHO
Jim McGuinness has described his college days at IT Tralee as "a wake-up call" and the experience  helped shape his approach to gaelic football management.
McGuinness studied health and leisure and was on a star-studded team that claimed Sigerson Cup honours in 1998.
"The thing that struck me when I was in Kerry is how professional they were," he said in a wide ranging interview with The Irish Independent.
"You always hear about the lovely Kerry footballer and the natural footballer and that.
"But in my experience of Kerry they were so professional and dedicated that I don't know if natural is the right word for them.
"They were so dedicated to making themselves better that they look natural, if that makes sense."
He continued: "Seamus Moynihan, for example, was living in Glenflesk and Jack Ferriter was in Dingle.
"They were leaving to be in Tralee for seven so they were on the road before six. And Seamus didn't have to prove anything at that stage. So that was a wake-up call.
"When you were going away, every hour was on the flip chart and organised and structured. It was good to be in that environment.
The Donegal boss also counted Galway All-Ireland winners Padraic Joyce and Michael Donnellan and Meath's Mark O'Reilly amongst his team-mates.
"It was a great dressing-room to be involved in. And it was great fun. The whole team used to go out on a Thursday night together.
"Darragh Ó Sé said at the Ulster All Stars that he remembered me being a good dancer. I was saying that when we were out dancing he was up at the bar chatting with whoever!
"There was great camaraderie. I have a great group of friends down there and I am sending them an odd text at the moment 'if you hear anything in the Kerry team, let me know.' But there is nobody responding to anything!
"The Kerry people were fantastic - really good people, really good to me on a personal level. So on a personal final it is a lovely final for myself. And I know it is a lovely final for the boys as well."
Most Read Stories