Kerry, Donegal both to wear Green & Gold in final!
September 02, 2014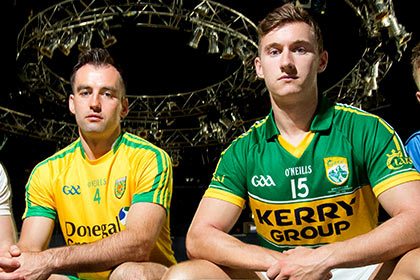 Donegal and Kerry will stick with their traditional colours for the All Ireland final.
Kerry and Donegal will both be allowed to wear their first-choice Green & Gold kits for the All-Ireland football final on September 21st.
Both counties had to change to their alternative colours for their 2012 All-Ireland quarter-final meeting (Kerry donning blue, while Donegal wore white) and they did likewise when they met in the league in 2013. It was expected that they might be asked to again change for the 2014 Sam Maguire Cup decider.
However, there is a lot less green in the new Donegal jersey, which is predominantly gold with green strips down the arms, and the GAA has decided that a colour clash is unlikely. They have therefore given permission to both counties to wear their traditional colours.
According to the official Kerry GAA website: "Croke Park have given Kerry the go ahead to wear their traditional Jersies in the All Ireland Finals on September 21st. Kerry will therefore be wearing their usual Green and Gold Jersies/White Togs."
So it's going to be Green & Gold V Gold & Green!
Most Read Stories