Football top scorers: Quigley leads the way
June 23, 2014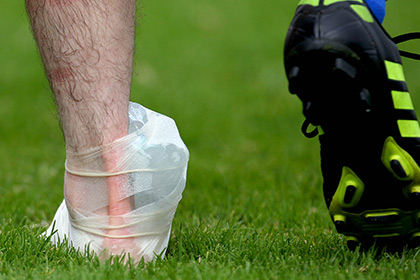 All the top marksmen will be hoping to stay injury free. INPHO
After a weekend of football qualifiers there are a host of new contenders in the top scoring charts.
With 2-8 to his name against Laois, Fermanagh's Sean Quigley moves to the top of the table with 3-14 in total.
While that was the Erneman's last game of the season, his average score per game of 11.5 sees him with the highest average of any player at this point.
Quigley (2-5) and Laois' Ross Munnelly with 0-11 are the leading scorers from play.
Quigley and Meath's Michael Newman both have three goals to their name. Six players have two goals.
The highest individual game tally so far belongs to Quigley (2-8 v Laois).
Overall - championship football top scorer
Sean Quigley, Fermanagh 3-14 (23) 11.5avg
Ross Munnelly, Laois 0-20 (20) 6.66avg
Niall McNamee, Offaly 0-17 (17) 8.5avg
Sean McCormack, Longford 0-16 (16) 5.33avg
Cillian O'Connor, Mayo 2-10 (16) 8.0avg
Shane Walsh, Galway 1-12 (15) 7.5avg
Donie Kingston, Laois 0-15 (15) 5.0avg
Brian Neeson, Antrim 1-9 (12) 6.0avg
Seanie Furlong, Wicklow 2-6 (12) 6.0avg
Ian Ryan, Limerick 0-12 (12) 6.0avg
From play - championship football top scorer
Sean Quigley, Fermanagh 2-5 (11) 5.5avg
Ross Munnelly, Laois 0-11 (11) 3.66avg
Danny Cummins, Galway 1-7 (10) 5.0avg
Shane McGrath, Clare 1-7 (10) 3.33avg
Paul Barden, Longford 1-7 (10) 3.33avg
Niall McNamee, Offaly 0-9 (9) 4.5avg
Shane Walsh, Galway 1-6 (9) 4.5avg
Leo McLoone, Donegal 2-3 (9) 4.5avg
Donie Kingston, Laois 0-9 (9) 3.0avg
Francis McGee, Longford 1-6 (9) 3.0avg
Most Read Stories